World news story
High Commissioner's Blog
Celebrating St Andrew's Day in Uganda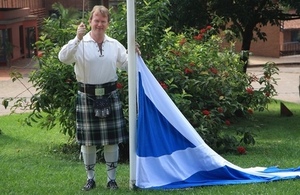 If you happened to be passing the British High Commission today, you may have noticed something a bit different. The red, white and blue of the Union Flag has been replaced with a simple blue field with a bold white cross running from its corners. It's the Saltire: the cross of St Andrew, the Patron Saint of Scotland, whose feast night is marked by Scots across the world. The Saltire was raised this morning by our own Clark Adam, one of the High Commission's proud Scots, wearing a kilt for this special occasion.
And if you happen to visit the Serena Hotel in Kampala tomorrow evening, you'll hear the sound of Scottish jigs and reels, and the clink of whisky glasses, as the Caledonian Society holds its annual St Andrew's Ball.
All this is happening because 30 November is St Andrew's Day, the national day of Scotland. It's an opportunity to celebrate the best of Scotland, and all that this land and its people have contributed to the world.
The 12 months since the last St Andrew's Day have been remarkable. It has been a year when Scotland has welcomed the world, hosted two great international sporting events, and when the Scottish people determined their own future.
2014 has been, unofficially at least, the year of Scotland. And what a year it has been!
The Commonwealth Games brought 6,500 athletes to Glasgow. They came from 71 nations and territories, representing a third of the world's population, to compete in 17 sports over 11 glorious days. Over a million people filled Glasgow's sporting arenas, and over a billion more were willing on the athletes from their homes. Who can forget Moses Ndiema Kipsiro taking gold for Uganda in the 10,000 metres?
Before the Games, the Queen's Baton completed a 190,000 km journey, visiting 70 Commonwealth nations and territories over 288 days. We welcomed the Baton to Kampala in January this year, and I hosted an inspirational children's tag rugby tournament at the national rugby stadium. It was a very enjoyable and inspirational day, and the crowning moment was the arrival of the Queen's Baton, run into the stadium by members of the national men's and women's rugby teams.
And just when we thought that the agony and ecstasy of sport had reached its climax, the eyes of more than half a billion viewers in 183 countries turned to Gleneagles as Europe's and America's best golfers battled it out for the glory of winning the Ryder Cup.
2014 was also the year that the United Kingdom demonstrated that values aren't just something we talk about abroad - we live by them at home.
In a defining moment in British history, and by a decisive majority, the people of Scots voted to remain part of the United Kingdom, one of the most durable and successful political unions ever seen. Who would have thought that politics could be more exciting than sport?
In a world where separatism all too often leads to conflict, the Scottish referendum demonstrated Britain's confidence in her own democratic institutions and processes.
A free and open debate electrified the nation; a peaceful, lawful and democratic vote drew admiration from around the world; and, with a record turnout, the settled will of the Scottish people was determined.
St Andrew's Day is an ideal time to think about the impact Scots and Scotland have had on the world. From haggis to Hogmanay, golf to the Highland Games - to its less well-known exports.
Did you know, for example, that James Bond isn't English? Scottish author Ian Fleming described him in his books as a Scot. Or that penicillin was discovered by another Fleming, and that television and the steam engine were invented in Scotland too?
Scotland today has a huge amount to offer whether you are a tourist, a student or looking to do business.
This year looks like being a record year for tourism, but in a usual year, 20 million people can be expected to visit Scotland, four times more than the entire Scottish population.
They come for Scotland's mix of vibrant, cosmopolitan cities; the biggest arts festival in the world; the beautiful, clean and unspoilt scenery, with thousands of historic castles, houses, battlegrounds, ruins and museums.
And 40,000 overseas students come every year to seek an education fit for a King. It was, after all, at one of Scotland's world-class universities, St. Andrews, that HRH Prince William studied and where he met his future wife.
This academic excellence helps to continue Scotland's proud tradition of innovation. With the highest level of education in the UK outside of London, Scotland is already a top location for Research & Development and Foreign Direct Investment in the UK.
Businesses can make use of Europe's fifth largest financial centre, Edinburgh, and the expertise that Scotland offers in sectors as diverse as business process outsourcing; financial services; life sciences and biotech; oil and gas; renewable energy; and technology.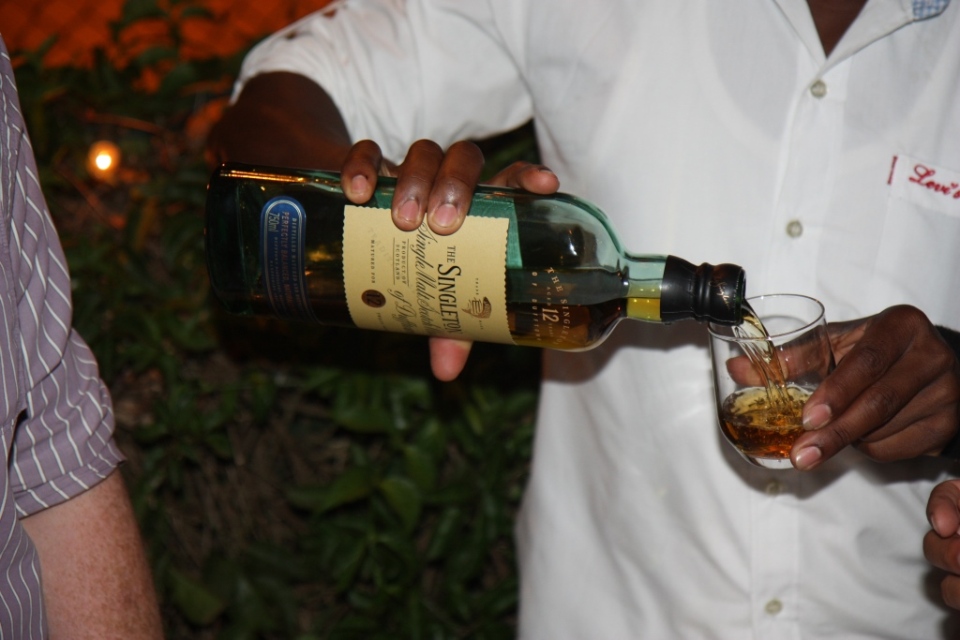 Visitors can enjoy Scotland's food and drink, famed around the world, and the great outdoors.
And let's not forget Scotland's contribution to global fashion. It's no accident that tartan and high quality Scottish textiles are beloved of designers the world over.
So I would like to wish the Scottish community in Uganda, the wider British community and our Ugandan and international friends a very happy St Andrew's Day for 30 November.
Published 28 November 2014