Press release
Hidden dangers highlighted in new smoking campaign
Hidden dangers highlighted in new smoking campaign. First shock smoking ads in eight years - Smokers will be told that just 15 cigarettes…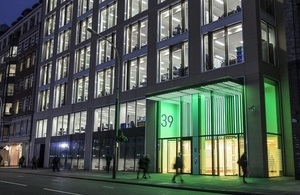 First shock smoking ads in eight years.
Smokers will be told that just 15 cigarettes cause a mutation that can lead to cancerous tumours in a return to hard-hitting health campaigns, the Department of Health announced today (Friday 28 December).
The new ads - featuring a tumour growing on a cigarette as it is smoked - are the first shock adverts since the "fatty cigarette" ad eight years ago. They aim to encourage people to quit over health concerns, by making the invisible damage visible.
The campaign comes in response to statistics that show more than a third of smokers still think the health risks associated with smoking are greatly exaggerated.
Designed to show that every cigarette is potentially harmful, the campaign will send a tough message about the dangers of smoking to a new generation of young people - many of whom will never have seen such hard-hitting messaging since they took up the habit.
The campaign is supported by a variety of charities including Cancer ResearchUK.
Since the last campaign, focusing on the health harms of smoking in 2004, it is estimated that:
More than 3 million people are estimated have been admitted to hospital with a smoking related disease - that's more than 1,000 people each day; and
More than 570,000 people are estimated to have died because of a smoking related condition - that's 195 people each day
Chief Medical Officer Professor Dame Sally Davies said:
"It is extremely worrying that people still underestimate the serious health harms associated with smoking.
"We want smokers to understand that each packet of cigarettes increases their risk of cancer. And I want smokers to know that the NHS will help you quit. Contact an NHS stop smoking service today or pick up a Quit Kit from your local pharmacy."
The campaign costs £2.7 million and is supported by TV, outdoor and online media. It will run for nine weeks, reminding people that if they could see the damage cigarettes do then they would stop.
It presents smokers with the shocking truth behind cigarettes and encourages those trying to quit to pick up a free Quit Kit from their local pharmacy to help them along their journey.
The return to a focus on the damage caused by smoking comes after a number of different campaigns and a raft of tough measures introduced to curb the numbers of people taking up the habit including:
A successful nationwide mass quit attempt - Stoptober - which saw over 270,000 people signing up to quit;
A new secondhand smoke campaign aimed at highlighting the invisible dangers associated with smoking in the home and car near children.
Ending of tobacco displays in large supermarkets;
A ban on tobacco vending machines in licensed premises; and
A rise in the legal age of smoking from 16 to 18.
**Dr Harpal Kumar, Cancer Research UK's chief executive, said: **
"Tobacco is a lethal product and smoking is the single biggest preventable cause of cancer. Tobacco is highly addictive and kills half of all long term smokers.
"Hard hitting campaigns such as this illustrate the damage caused by smoking and this can encourage people to quit or may even stop them from starting in the first place. 
"We have got to reduce the impact that tobacco has on the lives of far too many people - it's not a 'lifestyle choice', it's an addiction that creeps into people's lives and results in death and disease.
"Giving up smoking can be extremely difficult, so providing extra motivation and reminding people of just how harmful the habit is can help smokers to take that first step in quitting for good."
More than eight million people inEnglandstill smoke and the campaign will reinforce the hidden harms from cigarettes. One in two smokers continue to die from smoking related diseases each year with a cost to the NHS of £2.7billion.
Anyone looking to quit can visit smokefree.nhs.uk for information, support or to find the nearest participating pharmacy for a free Quit Kit. Anyone who is concerned about cancer can visit cancerresearchuk.org.
NOTES TO EDITORS
Copies of the ad at https://www.dropbox.com/sh/11bnsstvcgrv8qu/a59-VKVPeZ
Leaflets and posters are also available for stakeholders to order through our smokefree resource centre  http://smokefree.nhs.uk/resources/ 1. Since 2004/05, an estimated 3.3 million people have been admitted to hospital with a smoking related disease with a further 10.5 million attributable. (NHS Information Centre) 2. Since 2004, an estimated 579,000 people have died from a smoking related condition with a further 1.5 million attributable. (NHS Information Centre)
Research references: 1. Pleasance, Erin D et al, A small cell lung cancer genome reports complex tobacco exposure signatures, Nature. 2010January 14, 463(7278) p184-190 2. Pleasance, Erin D et al, A comprehensive catalogue of somatic mutations from a human cancer genome, Nature. 2010January 14, 463(7278) p191-197 3. TNS Tobacco Tracking Study, October 2012
Quit Kits are available in over 8,200 pharmacies acrossEngland.
For help and advice, and to find your nearest participating pharmacy visit http://smokefree.nhs.uk
For media enquiries please contact the Department of Health press office on 020 7210 4990.
Published 28 December 2012