Heseltine launches panel of experts to kick-start estates regeneration
A panel will look at how the layout of estates can be best used to deliver more quality homes that people can buy and rent.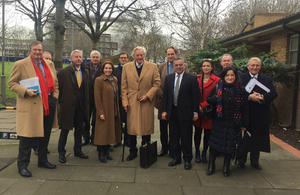 New tenants rights will be at the heart of the regeneration of some of the country's most deprived estates, Lord Heseltine said today (9 February 2016).
A panel, who met for the first time today, will look at how the layout of estates can be best used to deliver more quality homes that people can buy and rent.
The experts will also ensure that there are strong protections in place for existing residents so they will always be given the right to return to their communities.
The 17-strong group, co-chaired by Lord Heseltine and Housing Minister Brandon Lewis and reporting to the Prime Minister and Communities Secretary Greg Clark, will develop a national estate regeneration strategy and work with up to 100 estates to tackle deprivation and transform them into vibrant communities.
The Prime Minister announced last month that £140 million would be made available to jump-start the regeneration. The loan funding will allow communities to lever in investment from the public and private sector to deliver ambitious projects that local people can be proud of.
Lord Heseltine said:
Estates regeneration is key to transforming the lives of people living on poorly designed housing projects. The panel will provide expert advice, support and explore innovative funding solutions to drive forward the regeneration of estates around the country.

However, I am clear that this has to be locally led and we must work with the residents of such estates. I now want to see local communities coming forward with innovative ideas to achieve desirable neighbourhoods that local people can be proud of.
Housing Minister Brandon Lewis said:
We know these estates offer huge potential to be revived so that they become thriving communities and places which people want to live and work in.

This panel provides a wealth of experience to kick-start work that will help transform the lives of thousands of people by delivering better homes in better estates.
The panel met at the York Road Estate in Battersea, London where plans are being developed for a major regeneration scheme.
Wandsworth Council leader and panel member Ravi Govindia said:
I'm delighted to join panel and to play a part in unlocking the great potential of our country's housing estates.

Here in Battersea we are demonstrating that estate regeneration can be done with the support of the local community. Our approach is centred firmly on improving the lives of Winstanley and York estate residents and to providing new opportunities and better life chances.
Future meetings will be held at estates across the country. Members are:
Councillor Ravi Govindia, leader of Wandsworth Council
Nicholas Boys Smith, director of Create Streets, a social enterprise and independent research institute which pushes for well designed estates
Andrew Boff, leader of the Greater London Authority Conservatives housing group
Elaine Bailey, chief executive, from Hyde Housing Association, which successfully regenerated the Packington Estate in Islington
Paul Tennant, chief executive from Orbit Housing Association, which successfully regenerated Erith Estate in Bexley
Tony Pidgley, chief executive of Berkeley Homes - a lead partner on various estate regenerations across London
Peter Vernon, chief executive, Grosvenor Britain & Ireland
Jane Duncan, president of the Royal Institute of British Architects (RIBA)
Ben Bolgar, senior director of the Princes Foundation
Dominic Grace, head of London Residential Development at estates agents Savills
Emma Cariaga from the British Land and Thames Valley Housing Association
David Budd, Mayor of Middlesbrough
Natalie Elphicke, chief executive of the Housing & Finance Institute
Graham Allen, MP for Nottingham North
Félicie Krikler, director at Assael Architecture
The group will now work with a range of local stakeholders, including communities, local authorities, landlords, investors, builders, housing associations, and anyone else with ideas and ambition. It will draw up the national strategy for estate regeneration by the autumn. Its objectives include:
providing strong protection for existing residents, such as rights of return
delivering more homes for rent and ownership
delivering homes more quickly
promote high standards of design to provide commercially viable schemes which have the potential to be self-financing
encouraging and attracting more private and public sector investment to help regenerate estates
Britain is building again with the number of new homes up 25% in the past year and revived estates will play an important part in providing good quality social and affordable housing, and offering people the chance to achieve their dream of home ownership.
Wandsworth Council has announced ambitious plans to regenerate the neighbouring York Road and Winstanley Estates in Battersea, which will see more than 2,000 new home built. A range of affordable homes will provided for people to buy or rent at below market rates and the number of social rent properties will increase.
Further information
Biographies of the members
Ravi Govindia, leader of Wandsworth Council
Born in Jinja, Uganda's second largest city, Ravi first arrived in the UK aged 17 following General Idi Amin's expulsion of Ugandan Asians. First elected in 1982, he has chaired several committees during his career at the council including leisure and amenity services, technical services and planning.
Nicholas Boys Smith, director of Create Streets
Nicholas Boys Smith was a political advisor and strategy consultant at McKinsey & Co before becoming a director at Lloyds Banking Group. He is a consultant director of the think tank Reform, a fellow at the Legatum Institute and has led several influential research projects on the built environment. He has lived in Lambeth for most of his life. He is the founding director of Create Streets.
Andrew Boff, leader of Greater London Assembly Conservatives Housing Group
Andrew lives in Barking has been a Councillor in Hillingdon (1982-1994) and Hackney (2005-2006). Born in Hillingdon, he was leader of the council between 1990 and 1992. While in Hackney he helped run Broadway Market's Saturday market and published a local magazine. Up to being elected to the assembly in 2008, Andrew ran his own IT support company. During his time on the assembly he has headed an investigation into housing overcrowding and has published reports on violence against sex workers, housing on the Olympic site and end of life care.
Elaine Bailey, CEO of Hyde Housing Association
Elaine joined The Hyde Group as CEO in June 2014 and is responsible for the strategic direction of the organisation, ensuring Hyde responds to meet the country's challenging housing needs. Elaine has worked in both the public and private sector in engineering consultancy, HM Prison Service and, most recently, Serco. She has run large high performing service operations and has grown businesses organically and through acquisition. She has more than 20 years strategic and operational experience in complex service delivery, development and property; and addressing complex funding challenges.
Paul Tennant, CEO of Orbit Housing Association
Paul has been the Group Chief Executive of Orbit since 2003. He has broad experience and has worked for a wide range of organisations. He is a housing professional and has been a member of the Chartered Institute of Housing (CIH) since 1982. Paul is a Board member of Housemark, Vice Chair of the International Housing Partnership and a former President of CIH. His particular interests are promoting professional standards, extending the quality and range of services provided by housing organisations and encouraging progressive business transformation.
Tony Pidgley, CBE , Chairman of the Berkeley Group
Tony founded Berkeley Homes with Jim Farrer in 1976. The company gained a full listing on the stock exchange in 1985 as the Berkeley Group plc. Tony has since gained a national reputation for his pioneering approach to creating successful places. Berkeley was voted Britain's Most Admired Company in 2011 across all sectors and has been ranked the UK's most sustainable major housebuilder for eight years in a row. Berkeley has built 17,750 homes over the past five years and led the regeneration of estates at Kidbrooke Village and Woodberry Down.
Peter Vernon, Chief Executive, Grosvenor Britain & Ireland
Peter was appointed to the Grosvenor Britain & Ireland Board in 2005. He joined Grosvenor in 2005 and became Chief Executive of Grosvenor Britain & Ireland in 2008. He is currently a member of Grosvenor's Group Executive Committee. He is a member of Peabody's Board, Deputy Chairman of the West End Partnership, Director of London First and is on the Royal & Sun Alliance London Regional Board. He was a Commissioner of the independent City Growth Commission launched by RSA and chaired by Jim O'Neill, which delivered its conclusions in October 2014. Previously he was a Partner at IBM Business Consulting Services and PricewaterhouseCoopers.
Jane Duncan, president of RIBA
Jane took over the 2-year elected presidency of RIBA in September 2015. She is the director of Jane Duncan Architects, an award winning practice of 16 architects and interior designers based in Buckinghamshire. Established in 1992, Jane Duncan Architects undertakes a mixture of high-end residential, sports and leisure, commercial and community projects. These vary from sustainable contemporary to traditional and listed buildings. Trained at the Bartlett UCL, Jane set up in practice almost immediately after qualifying. She has been a small practice champion at RIBA, and was 6 years vice president practice. Since 2013 she has also been the RIBA's equality and diversity champion.
Ben Bolgar, senior director of the Princes Foundation
Ben is responsible for leading new building and community regeneration projects ranging in scale from regional planning to low carbon buildings. His experience includes over 50 projects in the UK and globally. The Foundation's model is one of innovation so services range from pure and applied R+D, through demonstration to application and diffusion.
Dominic Grace, head of London Residential Development at estates agents Savills
Dominic started at Savills in 1984, initially involved in residential sales. Savills was just starting to advise on residential developments and Dominic was involved in their first major new build project, at Chelsea Harbour for P&O Properties. For the past 26 years, Dominic has specialised in providing residential development consultancy and sales & marketing advice, primarily in London. Within Savills, in addition to residential development, Dominic is involved with other teams, including residential research, investment/PRS and Savills Press Office.
Emma Cariaga from the British Land and Thames Valley Housing Association
Emma joined British Land from Land Securities where she spent 7 years managing a number of residential developments including Wellington House, Kings Gate and the Zig Zag building in Victoria. She was also responsible for the management of the Ebbsfleet Valley project with a particular focus on optimising planning. Previously, Emma held several development and land management roles at housebuilders Barratt and Crest Nicholson. Emma is also a Non-Executive Director of Thames Valley Housing Association, which has created the Fizzy Living Private Rented brand and portfolio.
David Budd, Mayor of Middlesbrough
David was elected as Middlesbrough's second directly-elected Mayor on 7 May 2015. He has lived in and worked around Middlesbrough his whole life and raised his family in the town. Mayor Budd worked as a local bank manager for many years, helping and supporting local businesses to start up and to grow. Representing Hemlington and later Ladgate ward, David was first elected as a Councillor in 1991, serving as Executive Members for Regeneration and as Deputy Mayor before being elected as Mayor. For a decade, he has been leading the huge task of transforming and regenerating the town and has been involved in the Middlehaven project since the start, helping deliver some of the town's most iconic spaces, such as mima, Centre Square and the new hotel.
Natalie Elphicke, chief executive of the Housing & Finance Institute
Natalie Elphicke is Chief Executive of The Housing & Finance Institute (The HFI). The HFI was established following a recommendation in the government's independent housing review, the Elphicke-House Report 2015, which Natalie co-authored. The HFI works to increase housing supply across all tenures, to create opportunities for councils, finance and businesses to work together to build more homes and for the better delivery, asset management and financing of housing.
Qualified as a barrister and solicitor, Natalie started her legal career in the government legal service. Becoming a leading banking & finance international law firm partner and a national expert in her field of complex housing and property finance. Natalie's legal career spanned 2 decades. With over £4 billion of complex finance transactions across debt, equity, residential regulated and investment markets, major infrastructure, large regeneration and development projects.
Natalie is a non-executive director of Principality Building Society where she chairs the Board's Group Risk Committee. Natalie led the structuring team for the Ely Mill project which Principality jointly founded with Welsh government and which is on track to deliver 800 new affordable homes through regenerating ex-industrial land in Cardiff, the first business led housing investment partnership of its type in the UK. Natalie chairs and co-founded the national housing campaign group, Million Homes, Million Lives.
Natalie Elphicke was appointed an OBE in the Queen's Birthday Honours 2015 for her services to housing.
Graham Allen, MP for Nottingham North
Graham was born in Aspley, Nottingham on 11 January 1953, into a mining family with deep roots in the city. His grandfather was a founder member of Nottingham Labour party. Graham was elected by all MPs to lead the newly formed House of Commons Select Committee on Political and Constitutional Reform which is producing proposals on improving the UK's democracy. He has authored 2 reports on Early Intervention in support of a range of policies to give all children the best possible start in early life. He has also overseen the building of an Early Intervention Foundation and was its founding chair before stepping down in July 2014. Graham is in the process of setting up a project in Nottingham called "Rebalancing the Outer City Estates" to revive former manufacturing areas which he intends, if successful, to take to scale nationally. The project will focus on a range of issues from skills and training to health and culture.
Félicie Krikler, director of Assael Architecture
Félicie is an experienced architect with both French and British qualifications and has lived and worked in London for 20 years, gaining experience through leading numerous large-scale, mixed-use and masterplanning projects. As a creative professional, Félicie is passionate about design with her main areas of expertise lying in residentially-led urban regeneration. From masterplanning large-scale developments to thinking of the smallest details of urban living, Félicie has developed an intimate understanding of what makes good spaces and communities work.
Office address and general enquiries
2 Marsham Street
London
SW1P 4DF
Contact form https://forms.communit...
General enquiries: please use this number if you are a member of the public 030 3444 0000
If your enquiry is related to COVID-19 please check our guidance page first before you contact us - https://www.gov.uk/guidance/coronavirus-covid-19-guidance-for-local-government.

If you still need to contact us please use the contact form above to get in touch, because of coronavirus (COVID-19). If you send it by post it will not receive a reply within normal timescale.
Published 9 February 2016