Press release
Herefordshire man pleads guilty to waste offence
Miroslav Stoyanov ordered to pay £5,400 for operating an end of life vehicle treatment facility without the necessary environmental permit.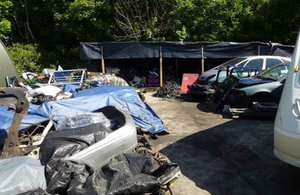 On Friday 22 April 2016 he pleaded guilty at Hereford Magistrates' Court to 1 offence of operating an end of life vehicle treatment facility without the necessary environmental permit.
The charge was brought by the Environment Agency contrary to Regulation 12 (1) and 38 of the Environmental Permitting (England and Wales) Regulations 2010.
Mr Stoyanov was fined £270, ordered to pay £3,210 in compensation, £1,900 in costs and a £20 victim surcharge.
Environment Agency officers first attended the site at 47 Chapel Road, Rotherwas, Hereford, on 21 May 2015 where they noticed a number of car shells, piles of segregated vehicle parts, a number of car bonnets and racking containing other car parts.
On 26 May 2015, Mr Stoyanov was served with a notice to produce all transfer notes for his vehicle breaking activities between 1 April 2014 and 26 May 2015, to which he failed to respond.
Environment Officers confirmed there were no environmental permits or exemptions registered to the location.
On 12 July 2015, Environment Agency officers found Mr Stoyanov was connected with selling vehicle parts on a number of websites also under the name of Auto Parts 2000 and had profited considerably from this.
When interviewed by Environment Agency officers Mr Stoyanov admitted to conducting vehicle breaking activities. He accepted selling car parts from the end-of-life vehicles in the UK and Bulgaria, as well as through a number of internet web sites. He also admitted to incorrectly disposing of hazardous waste from the vehicles. Mr Stoyanov admitted transporting waste without a waste carriers licence.
Speaking after the case, an Environment Agency officer in charge of the investigation said:
When a business operates without a permit it puts the environment at risk. It can also result in legitimate competitors being unfairly undercut. We offer guidance and advice to people wanting to work in the waste business to help them ensure they do not break the law but they need to follow that advice before starting work.
Published 25 April 2016