Press release
Her Majesty's chief inspector of constabulary announced
Tom Winsor has been appointed Her Majesty's Chief Inspector of Constabulary, the Home Secretary announced today.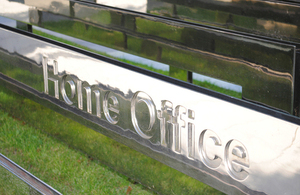 Mr Winsor was appointed following a rigorous recruitment process which included approval by the prime minister and The Queen.
 
Home secretary Theresa May said:
 
'I am delighted to confirm Tom Winsor as the new chief inspector of constabulary.
'He has demonstrated a very clear understanding of the complex challenges facing policing and brings with him a wealth of experience from his role as rail regulator and from his review of police pay and conditions.
'I very much look forward to working with him when he takes up the appointment in October.'
Tom Winsor said:
'Appointment as HM chief inspector of constabulary carries a great responsibility which I shall discharge with the support and assistance of the inspectors of constabulary and the excellent staff of HMIC, and the co-operation of the police service. 
'The public interest will be my primary focus.  The greater the efficiency and effectiveness of police forces, the higher will be the protection of the public and their safety.'
 
The recruitment process followed normal arrangements for senior civil service posts, with an interview panel comprising senior civil servants and senior figures from the law enforcement community.
Mr Winsor was named as a preferred candidate for the post by the home secretary on 7 June. The appointment was subsequently supported by the home affairs select Committee and has been approved by the prime minister and The Queen.
 
NOTES TO EDITORS
 
1. HM chief inspector of constabulary is a royal appointment made under section 54(1) of the Police Act 1996.
The selection process was chaired by home office permanent secretary Dame Helen Ghosh. The panel consisted of Stephen Rimmer (home office director general crime and policing group), Jacqui Francis (independent assessor), Lord Geoffrey Dear (specialist expert in operational policing) and Ian Davis (non-executive director, cabinet office). Final selection of Tom Winsor as the preferred candidate for HMCIC was made by the home secretary before approval by the prime minister and The Queen.
 

Between 2010 and 2012, Mr Winsor carried out the most comprehensive review of the terms and conditions of service of police officers and police staff for more than 30 years. He was rail regulator and international rail regulator for Great Britain between 1999 and 2004 and is an expert in transport, energy, public law and regulation. Mr Winsor also has 32 years experience practising law and is currently a partner at White & Case in London.

He will succeed Sir Denis O'Connor, who has been HM chief inspector of constabulary since April 2009.

The appointment is initially for three years at an annual salary of up to £199,995.
Published 4 July 2012