News story
Henry Bellingham 'deeply concerned at the death of Human Rights defender'
Henry Bellingham, Minister for Africa, has expressed concern over the death of a Human Rights defender in the Democratic Republic of Congo.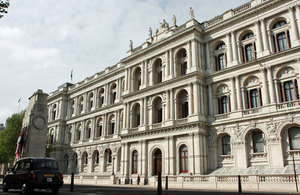 Henry Bellingham said:
'I am deeply concerned at the death of Human Rights defender, Mr Floribert Chebeya, and the disappearance of his driver, Mr Faithful Edad Bazan. On behalf of the British Government I would like to express our sincere condolences to their families at this time. We call upon the Government of Democratic Republic of Congo (DRC) to ensure a full, proper and transparent investigation takes place, in particular given the lack of clarity surrounding the incident.
Like many Human Rights defenders in DRC Mr Chebeya has faced threats, intimidation and arbitrary arrest in his work for pro democracy organisation ''Voice of the Voiceless''. We urge the Government of DRC to meet its responsibility for protecting members of its civil society and take steps to ensure that Human Rights defenders are able to carry out their work free from intimidation and violence.
I have asked our Ambassador to raise this issue with senior members of the DRC Government in the coming days.'
Published 3 June 2010