Help to Work: nationwide drive to help the long-term unemployed into work
Help to Work will give Jobcentre staff a new range of options to support the hardest to help get off benefits and into work.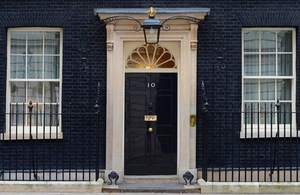 New intensive measures to help the long-term unemployed into work will begin from today (28 April 2014) as the government continues its push toward full employment.
The new scheme – Help to Work – will give Jobcentre staff a new range of options to support the hardest to help get off benefits and into work.
Jobcentre advisers will tailor back-to-work plans for individuals according to the particular barriers to work they may have. The new measures include intensive coaching, a requirement to meet with the Jobcentre Plus adviser every day, or taking part in a community work placement for up to 6 months so claimants build the skills needed to secure a full-time job.
There are currently more than 600,000 vacancies in the UK economy at any one time, and these new measures are intended to ensure that as the economy improves everyone with the ability to work has the support and the opportunity to do so.
Those who fail to participate in the scheme will face potential sanctions that could see them lose their benefits for a period of time.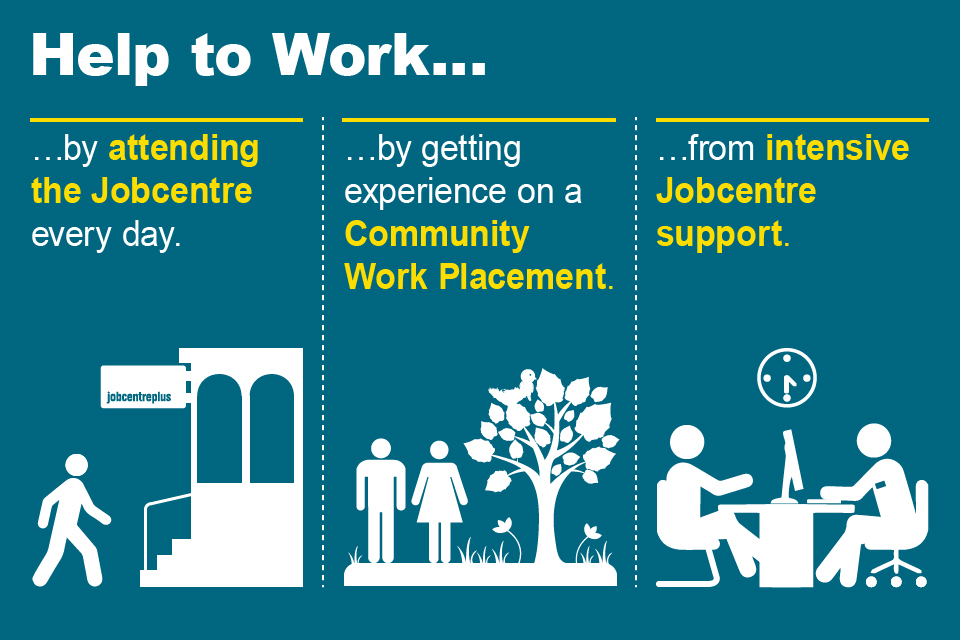 What the Help to Work scheme will include
Attending the Jobcentre every day
The daily meeting with their adviser would include discussing the progress made in looking for work, such as the number of job searches or applications made, or new activity to improve their skills base. It is designed for claimants who would benefit from regular support with looking for jobs, including those who need to build motivation, momentum and engagement. Currently, a claimant only needs to attend once every 2 weeks.
Community work placements
Claimants who lack work experience - and where this is felt to be holding them back from finding a job - may be asked to undertake a placement, which will also benefit their local community. This would include a range of roles in the voluntary and community sector that will give the claimant skills and experience within the work place. This could include gardening projects, running community cafes or even restoring historical sites and war memorials.
The placements will be for up to 6 months for 30 hours a week and will be backed up by at least 4 hours of supported job searching each week to help turn the experience into full time employment.
Mandatory work placements: a guide for potential host organisations
Intensive Jobcentre support
For jobseekers with multiple or complex barriers to work the Jobcentre Plus advisers will spend more time with the claimant looking at how to tailor back-to-work support, with more flexibility to send people on intensive training schemes, ad hoc funding to overcome issues blocking a return to work such as initial travel costs or suitable clothes for a job interview, and referrals to work experience opportunities with local organisations.
The launch of the Help to Work scheme, part of the government's long-term economic plan to help people into jobs, comes as figures from the Office for National Statistics show there are record numbers of people in work and long-term unemployment has fallen by 93,000 – the largest annual fall since 1998.
Helping people get on the road to a more secure future
Prime Minister David Cameron said:
A key part of our long-term economic plan is to move to full employment, making sure that everyone who can work is in work. We are seeing record levels of employment in Britain, as more and more people find a job, but we need to look at those who are persistently stuck on benefits. This scheme will provide more help than ever before, getting people into work and on the road to a more secure future.
Work and Pensions Secretary Iain Duncan Smith said:
Everyone with the ability to work should be given the support and opportunity to do so. The previous system wrote too many people off, which was a huge waste of potential for those individuals as well as for their families and the country as a whole. We are now seeing record numbers of people in jobs and the largest fall in long-term unemployment since 1998.

But there's always more to do, which is why we are introducing this new scheme to provide additional support to the very small minority of claimants who have been unemployed for a number of years. In this way we will ensure that they too can benefit from the improving jobs market and the growing economy.
Most people move off Jobseeker's Allowance quickly, with over 3 in every 4 people ending their claim within 6 months. Less than 3 percent of people joining JSA have a claim which lasts for 3 years.
People at risk of long-term unemployment get 2 years of help from the Work Programme, which has so far seen around half a million people start jobs since June 2011, with around 250,000 in work for 6 months or more. But for the minority of people who have been on Jobseeker's Allowance for a long time, after finishing on the Work Programme they will now move onto the Help to Work scheme where they will have to take up one of 3 different types of intensive support, depending on what is stopping them from finding work.
Jobcentre Plus advisers will work with jobseekers to decide which of the 3 options would best suit their needs. This will be based on an exit report from their Work Programme provider and discussions with the jobseeker about the particular barriers still stopping them from getting work.
Help to Work will be mandatory and people who fail to participate could lose their Jobseeker's Allowance for 4 weeks for a first failure and 13 weeks for a second failure.
Case studies
Lisa from Birmingham attended a Mandatory Work Placement at a charity shop. Lisa had worked in a retail environment many years ago, but never thought that after such a long gap that anyone would employ her in a retail position again. With careful guidance and support, Lisa was soon learning the essential duties required for retail store management. Lisa continued to volunteer after her placement ended and a month later she successfully applied for a job there. Lisa said that the placement has changed her life and gave her a chance that she would not normally have been able to take.
Denise from Liverpool attended a Mandatory Work Placement at a Social Enterprise Company where it was identified that she had literacy difficulties which had impacted on her personal life and self-confidence – she had barely left home in the previous 20 years and found it difficult to engage with people. Through close mentoring at the placement, Denise began to gain in confidence and self-belief and began to interact with colleagues and customers more freely. As a result of completing her placement, Denise gained valuable experience that could be referred to at interview as well as some outstanding references.
Single mother Denise from Warwickshire attended a Mandatory Work Placement at an animal charity. She had mild depression and low self-esteem but is now a lot more confident. During her placement she was helped with completing her NCQ level 2 in retail and customer service. Since finishing her placement she has continued to volunteer for the charity and is helping to coach other volunteers. She said:
I was nervous about starting a work placement but after the first few days of being there I loved it and have volunteered here ever since and hopefully when a job comes up to manage a shop of my own I will be able to apply for the position. I have gained so much confidence since working here – I really love it!
Further information
Community Work Placements will be delivered by contracted providers, who will work with a range of organisations to source placements of community benefit across a range of employment sectors.
Community Work Placement suppliers
| Contract package area | Coverage | Supplier |
| --- | --- | --- |
| 1 | East of England – Bedfordshire and Hertfordshire; Cambridge and Suffolk; Essex; Norfolk | Seetec |
| 2 | East Midlands – Nottinghamshire; Derbyshire; Lincolnshire and Rutland; Leicestershire and Northamptonshire | G4S |
| 3 | London West – Ealing; Hammersmith and Fulham; Brent; Harrow; Hillingdon; Hounslow; Richmond Upon Thames; Kingston Upon Thames; Wandsworth; Enfield; Kensington and Chelsea; Barnet; Camden; Westminster; Islington; Haringey | G4S |
| 4 | London East – Hackney; Newham; Tower Hamlets; Barking and Dagenham; Redbridge; Havering; Waltham Forest; City of London; Croydon; Bexley; Lambeth; Bromley; Greenwich; Lewisham; Southwark; Merton and Sutton | G4S |
| 5 | North East Northumbria – South Tyne and Wear Valley; Tees Valley | Pertemps |
| 6 | North West 1 – Cumbria and Lancashire; Merseyside; Halton | G4S |
| 7 | North West 2 – Greater Manchester Central, Greater Manchester East and West, Cheshire and Warrington | Seetec |
| 8 | Scotland – Ayrshire, Dumfries, Galloway and Inverclyde; Edinburgh; Lothian and Borders; Forth Valley, Fife and Tayside; Glasgow; Highlands, Islands, Clyde Coast and Grampian | Learndirect |
| 9 | South East 1 – Hampshire and Isle of Wight; Thames Valley (Berkshire, Buckinghamshire, Oxfordshire) | G4S |
| 10 | South East 2 – Kent; Surrey and Sussex | Seetec |
| 11 | South West 1 – Devon and Cornwall; Dorset and Somerset | Rehab |
| 12 | South West 2 – Gloucester, Wiltshire and Swindon; West of England | Seetec |
| 13 | Wales – North and Mid Wales, South West Wales; South Wales Valleys; South East Wales | Working Links |
| 14 | West Midlands 1 – Birmingham and Solihull; Black Country | Seetec |
| 15 | West Midlands 2 – Coventry and Warwickshire; Staffordshire; the Marches | Pertemps |
| 16 | West Yorkshire | Interserve |
| 17 | South Yorkshire | Interserve |
| 18 | North East Yorkshire and the Humber | G4S |
Published 28 April 2014
Last updated 27 May 2014
+ show all updates
Factsheet added - Mandatory work placements: a guide for potential host organisations

Added list of Community Work Placement suppliers.

First published.