News story
Help to Buy: helping 150,000 own their own home
Over 150,000 people have achieved their aspiration of home ownership thanks to the government's flagship housing scheme Help to Buy.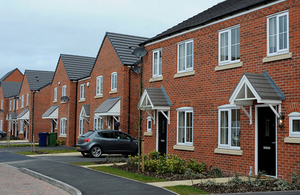 Since the launch of the Help to Buy equity loan and mortgage guarantee schemes:
over 150,000 completions under the scheme have taken place, with 80% having been made by first-time buyers
the average house price was £188,380 significantly below the national average
95% of Help to Buy completions took place outside of London
over half of Help to Buy completions have been for new-build homes
Help to Buy was created in 2013 to ensure that working people who were doing the right thing and saving for a home could achieve their aspiration of buying their own home through government support.
First-time buyers
As today's statistics show, the Help to Buy schemes continue to benefit first-time buyers overwhelmingly, with 118,000 households having bought their first home thanks to the scheme.
This is 80% of overall Help to Buy buyers, demonstrating that the scheme is successfully targeting those who need help getting on the housing ladder.
First time buyers will have a further boost from the Help to Buy: ISA launched in December 2015. The scheme has already helped a quarter of a million first time buyers save for their first home by providing a bonus of up to £3,000.
15 banks and building societies have signed up to offer Help to Buy: ISAs. These lenders are: Aldermore, Bank of Scotland, Barclays, Chorley Building Society, Clydesdale Bank, Halifax, HSBC, Lloyds Banking Group, Nationwide, Natwest, Newcastle Building Society, Santander, Ulster Bank, Virgin Money and Yorkshire Bank.
Helping people across the UK
Help to Buy is helping people throughout the UK achieve their dream of owning a new or bigger home.
With almost all completions outside London, the highest number of homes through the mortgage guarantee scheme have been in the North West region.
The equity loan – a scheme for new build properties – is particularly prevalent in the South East region. First time buyers and second-steppers will also have a further boost from the London Help to Buy scheme launched in February 2016. The scheme supports purchases of new build homes in the capital by offering a 5% deposit backed by an equity loan of up to 40% from the government.
Figures for the mortgage guarantee scheme also show completions have been least concentrated in regions where house price growth is highest.
In London the scheme makes up just 1% of all mortgage lending compared to an average of 3% across the country.
Getting Britain building
Over half of the homes bought through Help to Buy are new-build properties, helping to contribute to the 14% rise in private house building since the launch of Help to Buy.
This has supported new housing construction output with total new housing construction activity in 2015 the highest on record. Annual housing starts are now at an eight year high with over 700,000 new homes built since 2010.
Responsible lending
Today's figures demonstrate that Help to Buy was designed to support responsible lending: the average house price for both parts of the scheme, at £188,380 (£155,897 for the mortgage guarantee and £220,825 for the equity loan scheme), remains significantly below the national average house price of £288,000.
The average house price to income multiple under the mortgage guarantee scheme is capped at a 4.5x ratio to ensure responsible lending.
Chancellor of the Exchequer George Osborne said:
The government is committed to helping people achieve the aspiration of buying their own home, and all our Help to Buy schemes have now helped almost half a million people.

While the stronger financial system means we expect banks to start to exit our Help to Buy Mortgage Guarantee scheme, the other Help to Buy schemes go from strength to strength.

The Help to Buy ISA, launched in December 2015 has already helped a quarter of a million people save for their first home by providing a bonus of up to £3,000.
Communities Secretary Greg Clark said:
Anyone who works hard and aspires to own their own home should have that opportunity and for many people Help to Buy is turning that dream into reality.

Increased confidence coupled with our clear ambition to deliver one million new homes is leading to more housebuilding with the numbers of new homes at a seven year high.

Government-backed schemes are helping an increasing number of people to realise that home ownership is realistic for them.
Housing Minister Brandon Lewis said:
Help to Buy has now helped more than 150,000 people across the country achieve their aspiration of buying a new or bigger home.

These figures show the continued success of Help to Buy in supporting many hardworking people who want to buy their own home.

We know there is more work to be done to get the homes built people want but it is great news that people are really taking the opportunities available and getting into ownership.
House builders have also welcomed the role Help to Buy has played in boosting supply.
Home Builders Federation Executive Chairman Stewart Baseley said:
Help to Buy continues to help stimulate demand for new build homes. As a result we have seen huge increases in house building activity and the supply of much needed new homes.

We estimate the larger house builders have increased output by 50% since the trough with overall supply up by 37% in the last two years. The industry remains committed to working with government on policies that enable it to maintain increases in build rates such that more people have access to high quality new homes.
Published 10 March 2016