Press release
Help for small firms by stopping procurement red-tape
The government has unveiled plans to reduce the costly gold-plating of procurement in local government.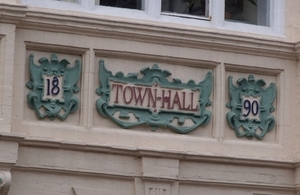 The government today (2 March 2015) unveiled plans to reduce the costly gold-plating of procurement in local government so that town halls can channel money into improving services and keeping Council Tax down.
Ministers are challenging the excessive and unnecessary requirements which are placed on potential suppliers right across the public sector.
A recent review found too many public bodies have adopted a formulaic, tick-box approach to equality considerations regardless of the size or nature of the contracts they are tendering.
This clamp down will help councils minimise unnecessary paperwork and obstacles to compliance. This will save taxpayers money, while making it easier for the voluntary sector and small and medium firms to bid for contracts.
Local Government Minister Kris Hopkins said:
Costly gold-plating of procurement is rife across the public sector but we are freeing town halls from this tick box mentality so that they can deliver a better deal for local people.

Small local firms and voluntary groups will be brought in from the cold because for far too long there have been obstacles preventing them from tendering for contracts.

Our proposals will boost transparency, while helping to ensure services are designed and delivered around the needs of the user by those who really care about the interests of local people.
The move implements a recommendation of the independent review of the Public Sector Equality Duty and also recommendations made by the Prime Minister's Enterprise Adviser, Lord Young's reports on helping small firms.
Further information
See the Revised best value statutory guidance consultation paper (for England).
See the independent review (page 31) PDF,697 KB.
See Lord Young's report (page 44) PDF, 3.38 MB on helping small firms.
Office address and general enquiries
2 Marsham Street
London
SW1P 4DF
Contact form http://forms.communiti...
General enquiries: please use this number if you are a member of the public 030 3444 0000
Published 2 March 2015