Help for older tenants wanting to move
Housing Minister Grant Shapps has today offered older tenants struggling to manage and heat their large family homes a dedicated officer to …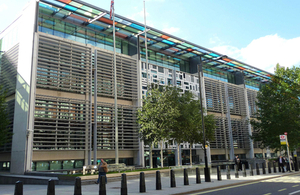 Housing Minister Grant Shapps has today offered older tenants struggling to manage and heat their large family homes a dedicated officer to find them smaller properties more suited to their needs.
The Minister argued that this will give these people the key to finding a home they can enjoy, not endure - and can give them the security and dignity they deserve.
Mr Shapps has announced a multi-million pound cash boost to landlords' efforts to better ensure their homes continue meet the needs of their residents.
Ministers are clear that they will not force people to move - but want to provide a helping hand to those wanting to do so.
There are 430,000 under-occupied social homes in England - where tenants have two or more bedrooms more than they require. In many cases, these properties are occupied by elderly tenants whose children have since grown up and moved out.
With more room than they actually need, many of these residents can become prisoners in their own homes, finding it a struggle to look after and heat the properties that are now too big for them to manage.
So Mr Shapps has today confirmed that councils from across the country managing the largest number of homes will get a share of £13million to make it easier for those tenants wanting to move from larger family homes to smaller, more manageable homes, to do so.
Councils will be able to use this funding as they see fit to better meet the needs of their tenants, with measures such as:
A dedicated officer to help find residents a suitable new home
A moving service to help tenants with every aspect of moving, from joining them on viewings to organising packing and removal services
Handymen to decorate and make repairs to their new home, including putting up shelves and installing white goods
Mr Shapps also outlined how he is looking to back all councils across the country with a dedicated new national action team based at the Chartered Institute of Housing, available to offer practical support and advice to those councils looking to help tenants wanting to move.
Those tenants in larger properties that are keen to downsize will also benefit from greater opportunities to swap with some of the quarter of a million households in overcrowded accommodation.
In particular the Localism Bill, currently before Parliament, includes measures to make it easier for social housing tenants to move through a new National Home Swap Scheme.
And with 1.8 million households on social housing waiting lists, many of them families, this funding will also help unlock larger homes for those in greatest need.
Grant Shapps said:
Older people can become the victims of their own changed circumstances, as the homes they have lived in for years become places to endure, not enjoy. As children grow up and fly the nest, these tenants can often find themselves trapped in larger family homes that no longer meet their needs.

That's why I'm giving these residents the chance to start a new life in a new home that better meet their changing needs. Fifty councils from across the country will get a share of £13million to boost their efforts to make it easier for those wanting to downsize to do so.

With a quarter of a million families in overcrowded accommodation and 1.8million households languishing on waiting lists, this will also help unlock larger family homes that are in such high demand.
Sarah Webb, chief executive of the Chartered Institute of Housing, said:
There are over four million social homes across England and these are incredibly important to current and future tenants, communities and tax-payers. They provide a stable platform from which millions of families are able to find work, send children to school, and contribute to their local neighbourhoods.

With millions more people looking to secure a council or housing association house we need to ensure we are making the most of the homes we've got - this is just as important as building new housing.

That is why CIH is delighted to be working with government to deliver this practical help to support people who want to move to a new home that better suits their changing needs and aspirations.
Twitter
Keep up to date with the Department by following us on Twitter (external link).
Media enquiries
Visit our newsroom contacts page for media enquiry contact details.
Published 20 January 2011