Helmand's road to progress
Key-road building projects were launched in Helmand Province, Afghanistan on Monday by Head of the UK-led Provincial Reconstruction Team Michael O'Neill and Governor of Helmand Gulab Mangal.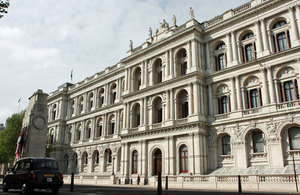 The roads, which will help link Marjah and Nad Ali district centres with the provincial capital Lashkar Gah are part of an effort to better connect key districts across the province.
Speaking about this work Michael O'Neill said:
"Building roads is not just about greater freedom of movement, it is about economic growth and jobs. These roads will improve ordinary people's access to markets and urban centres. It will help the people of this province realise the agricultural potential of the Helmand river valley, and provide a better future for themselves and their families."
Lack of access to markets has restricted many Helmand communities to subsistence farming, limiting the quality of life and opportunities open to them.
The 11km of road development will also improve access to the hospitals and medical facilities that are being developed across the province. The roads, which are being funded (approx. $2.3 million) by the UK's Department for International Development, will be surfaced and should therefore be less vulnerable to improvised explosive devices that insurgents hide in un-surfaced roads across the province, with the aim of spreading fear and limiting movement.
Working with the Ministry of Rural Rehabilitation and Development, the UK has helped support the building and resurfacing of over 115km of roads in Helmand
Published 19 January 2011