Helmand Provincial Reconstruction Team refurbishes Afghan Police checkpoint
British-led Helmand Provincial Reconstruction Team (PRT) has refurbished a key base for the Afghan National Police who are being handed more responsibility for security in Helmand from UK and other ISAF troops.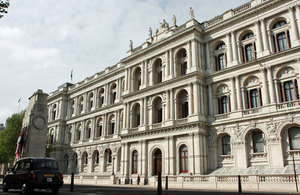 Check Point Kartelegan is a key base for the Afghan National Police in Helmand's provincial capital of Lashkar Gah. It has been extended and improved to better serve the increasing numbers of Afghan National Police.
The work has been undertaken as part of a larger programme of reconditioning and building of police checkpoints and headquarters in key areas across the province.
The checkpoint at Kartelegan has benefited from new watchtowers and improved facilities, while its general structure has been strengthened and extended.
Published 22 October 2010