Helmand Province sees progress in governance
Returning from her second tour, Lindy Cameron, who recently served as Head of Mission for the British-led Helmand Provincial Reconstruction Team highlighted governance and economic improvements at a NATO media roundtable on 12 October.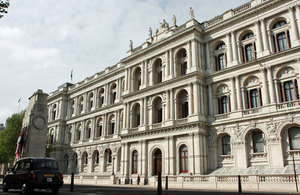 As the head of the PRT in Helmand, Ms Cameron directed the international stabilisation and development work across the province, including some 200 civilian and military staff from the United Kingdom, the United States, Denmark and Estonia. Ten District Stabilisation Teams throughout the province provide civilian expertise and mentoring to their Afghan government counterparts, as well as manage development projects that directly benefit the Afghan population.
Ms Cameron contrasted the situation in Helmand province from her first visit in 2006, when insecurity, a devastated economy and unproductive governance plagued the province, with the progress she witnessed over the past year.
She specifically cited the benefits of Governor Gulab Mangal's leadership. He implemented the first merit-based selection of district governors as well as an effective alternative livelihoods programme. As a result, the people of Helmand have demonstrated a gradual shift in confidence in the Afghan government. Recruitment for the civil service has increased, public debate has become more inclusive, and more individuals are willing to run for district community councils.
Published 13 October 2010