News story
Healthcare student funding consultation launched
Consultation on how changes to student funding for nurse, midwife and allied health professional degree places can be implemented.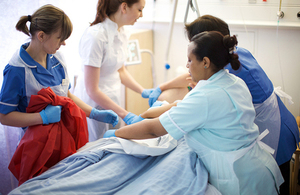 Under the existing system two-thirds of people who apply to become a nurse aren't accepted for training. The proposals will create up to 10,000 more training places by 2020, allowing universities to accept more applicants with the right qualifications than they currently do. The plans will also offer student nurses, midwives and allied health professionals typically around 25% more financial support while they study.
The changes are part of a wider plan from the government to ensure the NHS can adapt to the changing needs of our population, train more nurses in England and reduce the reliance on agency and overseas staff.
Interested organisations and the public are asked to contribute to the consultation which looks at how the changes can best be implemented. This includes looking at opportunities for students who apply for nursing, midwifery and allied health professional training as a second degree to be eligible for a student loan.
Health minister Ben Gummer said:
Since the wider reforms to higher education, our universities are offering more places and those from disadvantaged backgrounds are more likely to access an undergraduate degree.

Our proposed reforms will extend these benefits to nurses, midwives and allied health professionals, who have so far been excluded from these benefits. It is vital that the changes are implemented in the right way, which is why I would encourage as many people as possible to contribute to the consultation.
Lisa Bayliss-Pratt, Director of Nursing at Health Education England, said:
Health Education England is responsible for ensuring the NHS has the right people with the right skills, values and behaviours in the right place at the right time. This mission remains unchanged by the new funding arrangements for nursing and allied health professional university fees, which have the potential to increase the number of graduates available to the NHS by more than is possible under the current arrangements.

Our job, with universities and with the NHS, is to ensure that we continue to recruit high quality graduates to the service to support patients with safe, high-quality services in the future. We encourage everyone with an interest in delivering these services to patients in the future to make their voices heard in response to this consultation.
Plans to increase the nursing workforce also include the creation of a new nursing associate role, which will sit between care assistants and registered nurses, to give support to nurses. The department is working with representative organisations on the development of this role.
The consultation will run until 30 June.
Published 7 April 2016