Press release
HCA quarterly survey covering October to December 2016 published
The latest quarterly survey by the Homes and Communities Agency shows continued resilience in the social housing sector.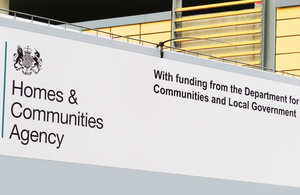 The latest quarterly survey published today (28 February 2017) by the Homes and Communities Agency shows that overall the social housing sector has strong operating cashflows and access to sufficient finance to fund its forecast capital investment.
The report, covering the period 1 October to 31 December 2016, is based on responses from 236 private registered providers (PRPs) and PRP groups who own or manage more than 1,000 homes.
Some of this quarter's main findings include:
new facilities agreed in the quarter totalled £4.3 billion – this included the re-financing of existing debt as £1.8 billion was repaid
investment in new housing supply was £2.0 billion in the quarter
revenue from sales activity was higher than in the September quarter in both market sales and affordable home ownership (AHO) – however there was an increase in unsold AHO and outright sale stock.
Fiona MacGregor, HCA's Director of Regulation, said:
The responses suggest that the sector has sufficient liquidity and is well-placed to respond to changes in the wider economic environment. Increasing levels of refinancing, both as a result of the maturity profile of existing debt and active treasury management demonstrate the sector's ability to raise the finance it needs.

Although we can see that providers are managing income collection risks and maintaining cashflows within business plan parameters, the pipeline of outright sale and shared ownership properties is significant for some providers. In this context, it is timely to reinforce our expectations around the quality of stress testing across the sector. We would like to see more evidence of boards having a clear idea of the triggers for implementing any mitigation plans.
The quarterly survey for Q3 (October to December) 2016 to 2017 is available on the HCA website.
Further information
The quarterly survey sets out information such as the amount of borrowing by registered providers and where they have borrowed it from, the number of affordable home ownership homes and market sale homes they have built and sold. Alongside a programme of periodic In Depth Assessments and regular financial Stability Checks, it provides regulatory assurance on the sector's financial strength and the continued viability of individual providers.
Previous quarterly surveys are available on the HCA website.
The regulatory framework can also be found on the HCA website.
The Homes and Communities Agency is the single, national housing and regeneration delivery agency for England, and is the regulator of social housing providers. As regulator, its purpose is to promote a viable, efficient and well-governed social housing sector able to deliver homes that meet a range of needs. It will do this by undertaking robust economic regulation, as enshrined in legislation, focusing on governance, financial viability and value for money that maintains lender confidence and protects the taxpayer.
For more information, visit the HCA website or follow us on Twitter.
Our media enquiries page has contact details for journalists.
For general queries to the HCA, please email mail@homesandcommunities.co.uk or call 0300 1234 500.
Published 28 February 2017