Press release
HCA publishes its social housing sector risk profile 2016
This annual publication sets out key challenges facing the sector and aims to help registered providers sustain their financial viability.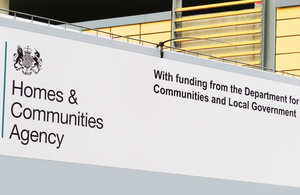 Social housing providers are making a vital contribution to housing supply but will have to manage the risks of being involved in developing new properties for sale, according to the Sector Risk Profile 2016 published today (21 September 2016) by the Homes and Communities Agency (HCA).
Now in its fifth edition, the annual risk profile by the social housing regulator aims to help registered providers sustain their financial viability by setting out some of the main challenges facing the sector and highlighting how the regulator will seek assurance that boards are managing those risks effectively.
In recognition of the important changes to the sector's operating environment that have taken place over the last year, this year's publication also includes a range of other strategic risks that could threaten compliance with other aspects of HCA's regulatory framework.
The main points for boards that are highlighted in this year's publication include the need:
to ensure that they understand, and can manage, the risks associated with an increased reliance on sales revenues

to continue to evolve governance structures and skills as the sector continues to diversify into a range of new commercial ventures and relationships

to factor a level of control into stress testing a wide range of potential scenarios and risks

to assure themselves that the reductions in operating costs that they aim to deliver in response to social rent cuts are achievable

to have a strong oversight on decisions around constitutional changes and disposals and be fully informed so that they can manage the reputational, legal, and financial risks when the de-regulation measures in the Housing and Planning Act 2016 commence.
Julian Ashby, Chair of the HCA Regulation Committee said:
The Sector Risk Profile will help boards to understand and manage the key risks to their businesses.

In what is becoming an increasingly complex operating environment, it is more important than ever for boards to ensure that their skills and risk management evolve appropriately. In particular, where providers move into new markets, or increase their sales activity, it is vital that boards understand the associated risks and ensure that their business plans are resilient to any shortfall in receipts.

We will continue to seek assurance through in-depth assessments and stability checks that governance arrangements are sufficiently robust to ensure compliance with our standards.
The Sector Risk Profile 2016 is available on the HCA website.
Further information
Previous Sector Risk Profiles are available on the HCA website.

The regulatory framework can also be found on the HCA website.

The Homes and Communities Agency is the single, national housing and regeneration delivery agency for England, and is the regulator of social housing providers.
As regulator, its purpose is to promote a viable, efficient and well-governed social housing sector able to deliver homes that meet a range of needs.
It will do this by undertaking robust economic regulation, as enshrined in legislation, focusing on governance, financial viability and value for money that maintains lender confidence and protects the taxpayer.
For more information visit the HCA website or follow us on Twitter.
Published 21 September 2016