Press release
HCA director Margaret Allen to take career break
Margaret Allen, Interim Director for Programmes and Recoverable Investment, is to retire from the HCA at the end of June.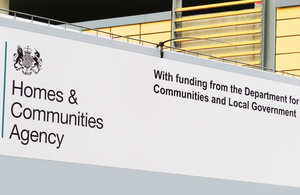 Margaret intends to take a career break, having been a member of the HCA's leadership team since it was set up in 2008 and having previously performed a similar role at the Housing Corporation.
Chief Executive Andy Rose said:
Margaret has made an outstanding contribution to the success of the HCA. She has made me aware for some time that she intends to take a career break, however given her importance to the HCA, she agreed to stay on through our year-end and into the first few months of this year.

She is held in the highest regard by me, all of our staff, the board, our sponsor department and stakeholders. Margaret has recently performed one of our most senior roles with distinction, while also playing a leading role on the creation of our new investment arm, HCA-I. We will all miss her enthusiasm, judgement and professionalism and we wish her all the very best in whatever she decides to do after a well-earned break.
The HCA is currently recruiting to the Director of Programmes role and is separately recruiting senior professionals to lead the new HCA-I function. A decision about Margaret's substantive post, Executive Director for the Midlands, will be made in due course, with Charles Amies continuing in the role.
Published 1 May 2014