News story
HCA Chairman marks 75th affordable home at Oakgrove, Milton Keynes
The HCA visited Oakgrove Village in Milton Keynes last week to mark the handover of the 75th affordable home to Hyde Housing Group.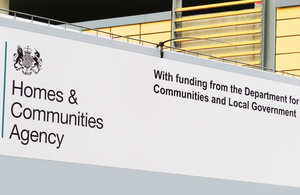 HCA Chairman Robert Napier was joined by fellow HCA Board Member Ann Limb - who is also Chair of the South East Midlands Local Enterprise Partnership - as well as Hyde Housing Group's CEO Steve White and Oakgrove's award-winning developer Crest Nicholson Regeneration (CRN).
The visit included a tour of the site, where 165 homes have been built during the first 15 months, as well as a chance to meet some of the new residents at Oakgrove. Commenting on his visit, Robert Napier said:
The HCA is committed to using its land to accelerate the delivery of affordable homes across the country and Oakgrove is a fantastic example of this. What also makes Oakgrove an exemplar is its high quality design and end product. Crest Nicholson has really invested in good design and the scheme boasts excellent environmental credentials, which is paying off for them both in terms of Oakgrove's popularity from home buyers and good local support for future phases.
Steve White from Hyde thanked Robert Napier, saying:
The Hyde Group prides itself on creating effective partnerships with all stakeholders and this development is an example of just that. We're delighted to be playing our part in providing much needed homes in this area and look forward to welcoming our latest Hyde residents into this property shortly.
As a new and growing community on the edge of Milton Keynes, Oakgrove Village is earmarked for the development of some 1,000 new homes together with a new neighbourhood centre. A third of homes will be affordable and managed by the Hyde Housing Group. Construction of the first phase of development of 295 homes is well advanced, and Waitrose and Costa Coffee are open for business. Planning consent has been secured by Crest Nicholson for the next phase of 112 homes, with work expected to start on site this summer. An application has also been submitted for the third phase of the development of 279 new homes.
As part of Crest Nicholson's commitment to fulfilling demand for high quality affordable housing for the people of Milton Keynes, it has been working closely with the landowner, HCA, since the initial planning application was submitted for the site in 2008.
With an increasing number of local people accessing Oakgrove Village as a result of Crest Nicholson's partnership with the HCA, both bodies have been actively tackling the shortage of new and affordable housing in the area.
Chris Tinker, Regeneration Chairman for Crest Nicholson, commented:
It is part of our commitment as developers to invest in and support our local communities, and working with the HCA to provide affordable housing is a great way to future proof the local area.

In the midst of a housing shortage, it is our responsibility to build a variety of housing at an array of price points, and to work with the HCA to ensure that we are meeting demand in the area. We look forward to welcoming many more new residents to Oakgrove Village.
Published 18 March 2014