Handover of the NATO Contact Point Embassy in BiH from the UK to the Slovak Republic
After two years as the NATO Contact Point Embassy in Bosnia and Herzegovina, the British Embassy Sarajevo is handing over this responsibility to the Slovak Embassy.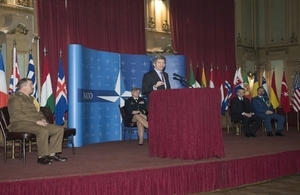 The UK has been delighted to fulfil this important role, which is designed to support the Bosnia and Herzegovina (BiH) authorities in activating BiH's Membership Action Plan, as requested by the BiH Presidency in 2010.
In the past two years, the British Embassy, together with local and international partners, has reached out to ordinary citizens across the country to help citizens understand the benefits of closer cooperation with NATO, and answer their questions. This has included regular interviews, as well as public discussions in Bijeljina, East Sarajevo, Mostar and Trebinje, and even a live Facebook chat.
And, there has been some important progress. After years of delay, and in line with a number of court rulings, BiH started the process of registering defence properties required for use by the BiH Armed Forces. Around a third of these properties have now been registered to the State of BiH, although there are continuing obstacles to completing the process of registering those properties located within the territory of the Republika Srpska.
In November last year, the BiH Presidency adopted a new Defence Review by consensus. This was a major step forward, following several years of disagreement over the future size and shape of the BiH Armed Forces. The focus is now turning to its implementation. In particular, NATO hopes to see early steps to design and deliver an ambitious modernisation plan, in order to develop Armed Forces which are better able to fulfil their key tasks, to the benefit of all the citizens of this country.
At today's handover ceremony in Sarajevo, the British Ambassador Edward Ferguson said:
This role has been a great opportunity to hear from ordinary citizens about their views on NATO. It's clearly an issue that people feel strongly about, whether they are for NATO membership, or against it. The key is to keep talking. Because the decision about whether or not to apply to join the NATO Alliance can only be made by the leaders and the citizens of this country – not by NATO, or by Russia, or anyone else. But that's a decision for the future.

In the meantime, there is a lot that NATO can do to help your Armed Forces and your security agencies to become even more effective – whether saving lives after natural disasters, tackling terrorism and cyber crime, or contributing to peacekeeping operations overseas.

Elsewhere in the region, Montenegro is poised to take its place alongside Croatia, Slovenia and Albania as the 29th NATO ally. And Serbia, although militarily neutral, is keen to take advantage of the benefits of closer cooperation with NATO. BiH too can enjoy these benefits – and I hope that the new Defence Review will provide a framework to develop and deepen the partnership with NATO even further.
Slovak Ambassador Jan Psenica said:
Slovakia will offer its experience with transformation of the defence structures and more widely, with security sector reform. The Embassy is planning to stimulate and contribute to a public discussion on security threats and the ways how states, individually or jointly, can address them. Not only the government experts and officials, but also non-governmental organisations have already expressed their interest to participate at the activities of public diplomacy.
Brigadier General Giselle Wilz, NATO HQ Sarajevo Commander, said:
In my time as Commander NATO HQ Sarajevo it has been very clear to me that the NATO Contact Point Embassy is an integral part of the NATO effort here in BiH. Our work with BiH on defense and security sector reform, and on Partnership for Peace tasks, is complex and challenging. But beyond that, there is no greater challenge of creating a real public space for dialogue on those issues - where we can talk frankly about how BiH would benefit from partnership with NATO and, I sincerely hope, from membership in NATO. I thank the United Kingdom for its strong and successful efforts during a very challenging time, and I look forward to working with our new NATO Contact Point Embassy.
NATO Contact Point Embassies support the activities of the Alliance in partner countries, and assist with public diplomacy efforts. They assist the Alliance with outreach, political affairs and security policy, with their mandates lasting for two years. As NATO Contact Point Embassy, the British Embassy was working with BiH's leaders, the BiH Armed Forces, to support BiH's progress towards NATO.
The UK was a NATO Contact Point Embassy in BiH from January 2015 to January 2017. The next NATO Contact Point Embassy in BiH is Slovak Republic.
Published 25 January 2017