Press release
Hancock: red tape drive saves business a record £10 billion
Business Minister Matthew Hancock announces the government's war on red tape has saved business £10 billion over the last 4 years.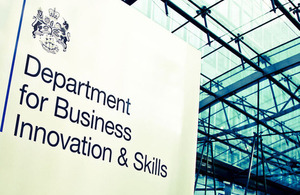 Business Minister Matthew Hancock today (30 December 2014) announced the government's war on red tape has saved business £10 billion over the last 4 years.
A continued red tape drive could deliver a total £20 billion of savings by 2020, by scrapping even more pointless regulations.
The Red Tape Challenge was driven by 30,000 businesses and members of the public from across the UK and overhauled regulation to make sure it works for – and not against – business. This includes heavy duty rules around employment that hinder the creation of new jobs as well as health and safety and environment laws that place unnecessary burdens on firms.
As part of the government's long term economic plan Business Minister Matthew Hancock has enforced a strict One-in, Two-out rule, meaning government departments are required to find a double cost saving for any new regulation imposed on business.
Business Minister Matthew Hancock said:
Today is a milestone for businesses of all shapes and sizes. I am very proud that the government is the first in modern history to cut red tape and free up business to create jobs and prosperity.

One in two out has delivered a fundamental change in the way Whitehall works. We are unashamedly pro-business and we will always back those who create jobs for others.

Now we are officially winning the fight at home – we have to take the battle against red tape abroad. The EU has committed to reduce the burden of regulations and follow our lead.

We need to see action in Brussels to reduce regulation and put jobs and growth first.
Action against pointless red tape includes:
live music: pubs and village halls can now host live music events between 8am and 11pm without applying for a license. This has saved business more than £1 million
Christmas crackers: lowering the age at which people can legally buy Christmas crackers from 16 to 12 years old and simplifying the process for age identification through a new code of conduct created with businesses and local authorities
squirrel spotting: we are scrapping the law which made it an offence to fail to report a grey squirrel on your land
babysitting: child minders who feed children in their care no longer have to register separately as a food business
lost property: bus companies no longer have to hold on to property, including decaying food left behind by passengers, for at least 48 hours and can instead decide themselves which items will be re-claimed
re-defining jam: reforming a heavy-handed rule that meant that to qualify as 'jam' a preserve must have a sugar content of more than 60%. Reducing the minimum sugar content to 50% will help British producers - large and small - to trade more easily across the world, boosting profits and allowing jam-lovers everywhere to enjoy delicious British jam
counting cows: cattle movements no longer have to be recorded on a lengthy paper based system and now are tracked online, freeing up farmers
Since Prime Minister David Cameron committed to reduce the cost of regulation to business during the government's term of office, businesses have benefited from over a thousand reforms targeting:
company law: giving thousands of small businesses more freedom to decide whether their accounts need to be audited is saving firms at least £300 million each year
employment: the introduction of Early Conciliation is helping employers and employees settle issues quickly, avoiding the expense, risk and stress of going to an Employment Tribunal. This is saving businesses £24 million per year
planning: simplifying guidance online and reducing existing planning guidance by 80% is saving money, speeding up the decision-making process and getting Britain building
health and safety: hundreds of thousands of low-risk businesses such as shops and offices no longer have to undergo unnecessary, unannounced inspections. And businesses are no longer automatically liable for workplace accidents that are not their fault
environment: setting out clearer arrangements to improve contaminated land is delivering over £130 million in annual savings
Gary Chadwick, owner of Chadwick's butchers, Balham, said:
Due to the government's action to remove red tape, we are now able to focus our time on our business and not bureaucracy. We are now looking to expand and open another store, and we have been able to put money into our web offering, expanding our customer reach.
New reforms set out in today's Statement of New Regulation, which details all regulatory changes to affect business made over the full course of the Parliament, include:
housing standards: streamlining hundreds of technical housing standards to just 5 national standards, saving house-builders and councils £96 million per year.
driving reforms: removing the requirement to return motor insurance certificates if a policy is cancelled mid-term, saving insurers and other businesses nearly £30 million per year
Dr Adam Marshall, Executive Director of Policy and External Affairs at the British Chambers of Commerce, said:
The government is making a real and concerted effort to cut red tape for businesses, helping to save them time and money. The 'one-in, two-out' rule has dramatically slowed the flow of new business regulations from Whitehall departments, giving firms greater confidence to focus on growth.

However, the job is not yet done. Government efforts to reduce red tape must continue, both here at home and in Brussels. We have long fought for better vetting of EU regulations before they hit the statute book, and will support UK ministers in their efforts to ensure that European regulatory proposals undergo full and proper economic assessments, to ensure they don't impose excessive burdens on businesses.
SME Alliance founder Nick Gould said:
The introduction of the Companies House web incorporation service is excellent. Fast and cost effective, it is one example of saving small firms from unnecessary form filling, allowing them to get on and start a business.
Notes to Editors:
A new Statement of New Regulation, the government's official 6-monthly progress update on regulation, detailing all regulatory changes to affect business made over the full course of the Parliament, is at One-in, two-out: statement of new regulation
The government has made a £10 billion cumulative net saving to business over this Parliament. This has been calculated by multiplying the net annual cost of each regulation by the number of years it has been in effect, and doing the same for the savings from each deregulation.
Over 30,000 comments were crowdsourced online from individuals and businesses via the Red Tape Challenge website, harnessing the knowledge of those people faced with understanding and complying with these regulations.
Under the One-in, Two-out rule, government departments must find savings worth double the cost of any new regulations on business.
Focus on Enforcement reviews examine how regulation is delivered - through inspections, advice and enforcement - with a view to identifying and delivering improvements that reduce burdens on business. Visit Focus on Enforcement
The government is working with partners across Europe to reduce the burden of EU legislation on business. Priorities for making the EU more business-friendly include persuading the Commission to publish an annual statement of the net cost of EU legislation, to help business see what burden of regulation stems from the EU; and making sure that business have an opportunity to influence EU proposals at an earlier stage. Tough new rules to stop 'gold-plating' of EU legislation have prevented Whitehall departments from adding additional red tape to EU legislation that is incorporated into UK law, unless this is clearly in the UK interest. The business-led Taskforce on EU Regulation, appointed by Prime Minister David Cameron, published its report Cut EU Red Tape in December 2013, and an update on progress was published in November 2014. For further information visit 'Cut EU red tape: Business Taskforce report - one year on'
The HMRC has been working to make it easier, quicker and simpler for small businesses to engage with HMRC and to help them to get their tax right, first time. See Supporting Small Business.
Published 30 December 2014