Hammond visits troops in Afghanistan
This was Mr Hammond's first chance to see for himself the reality of what it is like for troops deployed on Op HERRICK. Speaking to the media…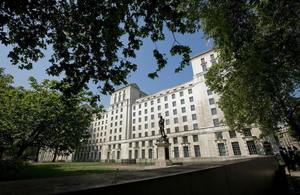 This was Mr Hammond's first chance to see for himself the reality of what it is like for troops deployed on Op HERRICK. Speaking to the media during his visit he said:
It was very important for me to come out here and make it come alive.
Because you can read all the briefing papers, you can look at the statistics, you can see the reports from the commanders; but coming out here and sitting down with the men and women who are actually fighting on the front line, hearing about the things that concern them and the pride they have in the job that's being done is immensely important.
Mr Hammond said that he had been impressed by the servicemen and women that he had met, describing them as very focused on the job they were doing:
They are here to do a job; they are all committed to that. They know that they are taking huge risks; they do that willingly and some of them, sadly, pay with the ultimate sacrifice.
It was poignant he said that during his trip another serviceman, Private Matthew Thornton, had been killed.
Mr Hammond arrived in Kabul on Wednesday 9 November 2011 and visited the ISAF headquarters where he met the Commander of ISAF forces, General John Allen, and the Deputy Commander, Lieutenant General James Bucknall.
Following this he visited the Afghan Ministry of Defence and met his equivalent, General Wardak, the Afghan Minister of Defence, and the Afghan Army Chief of Staff, General Karimi.
The next day Mr Hammond flew into Helmand province and met UK commanders at Camp Bastion. He then visited soldiers from 3rd Battalion The Royal Regiment of Scotland based at Forward Operating Base Shawqat in Nad 'Ali.
Later that day he travelled to the headquarters of Task Force Helmand in the capital of Helmand province, Lashkar Gah, where he was briefed by Brigadier Patrick Sanders, the Commander of Task Force Helmand, as well as meeting members of the Provincial Reconstruction Team.
Having met and mingled with troops Mr Hammond was asked by the media whether it had been difficult for him to show the troops that he had their best interests at heart given the pressure on him to push through Defence Reform and implement cuts.
He said:
They are focused on their jobs. But when you ask them 'what's on your mind?', probably a few years ago they would have talked about their equipment, their personal protection; they're telling me that all of that is now great.
But now they are thinking of the future and I think what we owe to them is that we get these changes clear as soon as we possibly can so that people know what is going to happen in the future, and where they are going to fit into the organisation.
Mr Hammond was keen to point out that the cuts in front line jobs would not happen until the task in Afghanistan had been completed:
I think that the people here are very professional, they're very realistic, they understand that the job the Army will do and the way it will need to be structured to do it will change over time, according to the threat we are facing.
But he had no doubt, he said, that the British Armed Forces would remain one of the world's most significant, most effective fighting forces.
Today, the last day of his trip, Mr Hammond led tributes to the fallen at an Armistice Day service held at Camp Bastion.
Published 11 November 2011