Half of people with hepatitis C unaware
Around half of the people living with hepatitis C infections don't know it, according to a new publication from PHE.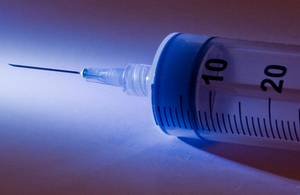 Public Health England's (PHE) has published its 'Shooting up: infections among people who inject drugs in the UK 2013' report today (5 November 2014).
In total, 13,750 hepatitis C infections were diagnosed in 2013 in the UK, with around 90% acquired through injecting drug use. Around 2 in 5 people who inject psychoactive drugs such as heroin, crack and amphetamines are now living with hepatitis C, but half of these infections remain undiagnosed.
Interventions to diagnose infections earlier, reduce transmission and treat those infected need to be continued and expanded, with the goal of reducing the prevalence of hepatitis C.
If caught early hepatitis C can be successfully treated with antiviral medications. Around a quarter of those with hepatitis C clear their infection. Often, hepatitis C infection remains asymptomatic and is only diagnosed after liver damage has occurred. Left untreated hepatitis C infection can result in severe liver damage, liver cancer, liver failure, and even death.
Dr Vivian Hope, a PHE expert in infections among people who inject drugs, said:
With around half of those people living with hepatitis C still unaware of their infection, we need to do more to increase diagnosis rates. Ultimately, this will help reduce the current high level of infection we're still seeing among people who inject drugs.

Obtaining blood from people living with hepatitis C who inject drugs can be difficult due to poor venous access. Dry Blood Spot Testing is an alternative method that avoids puncturing veins – which has been proven to be reliable and simple, and acceptable to both people who inject drugs and drug service staff. Using this new testing method has already started to improved hepatitis C diagnosis rates.
Dr Fortune Ncube, Consultant Epidemiologist and lead for PHE on Injecting Drug Use said:
To reduce transmission and decrease rates of hepatitis C infection it is imperative that we maintain adequate provision of effective interventions such as needle and syringe programmes, opiate substitution and other drug treatment.
Ends
People who inject drugs are the group most affected by hepatitis C in the UK: around 90% of the hepatitis C infections diagnosed in the UK will have been acquired through injecting drug use. Across the UK 13,758 hepatitis C infections were diagnosed during 2013.
Public Health England exists to protect and improve the nation's health and wellbeing, and reduce health inequalities. It does this through world-class science, knowledge and intelligence, advocacy, partnerships and the delivery of specialist public health services. PHE is an operationally autonomous executive agency of the Department of Health. Website: www.gov.uk/phe. Twitter: @PHE_uk, Facebook: www.facebook.com/PublicHealthEngland
Published 5 November 2014