Haiti: the crisis in context
The devastation wreaked by the January 2010 earthquake in Haiti is the third time this Caribbean nation has suffered at the hands of natural disasters in a little over two years.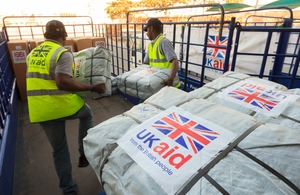 The 7.0-magnitude quake - the worst in Haiti for two centuries - left over 200,000 people dead and up to six million more affected.
In co-ordinating the UK's aid response, DFID immediately sent a four-strong humanitarian field assessment team to Haiti, the poorest country in the western hemisphere.
A team of 64 UK urban search and rescue specialist fire-fighters with dogs and heavy equipment joined other aid agency staff as part of the UK's response.
They joined search and rescue teams from the US and Switzerland, together with a further 25 teams from around the world.
Need is very great
Speaking in the House of Commons, then-International Development Secretary Douglas Alexander said: "Haiti is, of course, one of the poorest countries in the world.
"The need in the aftermath of this tragedy is likely to be very great.
"The UK stands ready, as part of the international community, to provide whatever humanitarian assistance is required."  
The quake struck about 10 miles south-west of Haiti's capital Port-au-Prince, just before 5pm local time (10pm UK time).
The earthquake follows devastation caused by hurricanes in September 2008 when an estimated 800,000 people lost homes, water and food access.
DFID provided £7.5 million to help Haiti, Turks and Caicos and other affected islands.
In November 2007, Haiti suffered 40 deaths and many thousands of people were evacuated to shelters following flooding and mudslides after prolonged heavy rain from tropical storm Noel.
Published 19 November 2010