From search and rescue to long-term recovery.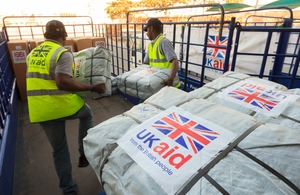 On January 12, the Caribbean nation of Haiti – one of the poorest in the western world - was struck by a massive 7.0 magnitude earthquake.
The worst for more than a century, the quake hit south of the capital Port-au-Prince, killing at least 230,000 people – including many NGO and UN employees, injuring 300,000 and leaving more than 1.5 million others in need of shelter.
One month on, the international aid effort has shifted from search and rescue activity to meeting the basic needs of the survivors in the immediate term and its long-term rehabilitation.
Following life-saving work by the UK search and rescue (SAR) teams - which reached Haiti 48 hours after the quake - DFID is now focused on co-ordinating a complex relief effort to limit delays and anxiety among Haitians.
DFID has already helped get water, food and medical supplies to more than 400,000 people.
There is now the urgent need to provide shelter and sanitation for more than 1 million more people made homeless in Port-au-Prince and rural areas.
From survivors to security
In their 11-day operation in Haiti, the UK search and rescue (SAR) teams pulled four survivors from the wreckage, including two-year-old Mia, buried beneath a nursery school and quickly reunited with her mother.
Two members of the UK government's Stabilisation Unit are working with colleagues from the US, the EU and Canada to revive security and justice systems in Haiti with two more expected there this week.
At its peak, Port-au-Prince airport was dealing with 160 flights per day, but that has dropped as more help arrives by sea.
The Royal Fleet Auxiliary (RFA) ship, Largs Bay, is carrying vehicles, port-handling equipment to rebuild ports and corrugated iron to provide shelters for up to 2000 families.
A DFID expert is leading the effort to shelter those affected; providing at least one tarpaulin for every affected family as soon as possible, and replacing them with more resilient shelters before the impending threat of Haiti's rainy and hurricane season.
Proud
Head of DFID's conflict, humanitarian and security department (CHASE), Phil Marker, said: ""We can be proud of the response we have mounted so far but there are huge challenges ahead.
"A lot of the roads are damaged and there is the threat of the rainy season just months away."
There are shoots of recovery among Haiti's shattered lives.
Some schools in unaffected areas have re-opened and the ministry of education is aiming to re-open all schools by the end of March.
More than 1 million people now have a two week rice ration thanks to work by the World Food Programme and DFID has also funded an 11-strong medical team from the Merlin aid agency, specialising in saving injured limbs and crush injuries.
Key facts
The first of two flights carrying the UK's search and rescue team arrived in Haiti 48 hours after the quake.
DFID's funding for Haiti stands at £20 million, including £2.5 million for three NGOs; ACF (£1m), Oxfam (£1m) and Handicap International (£500,000)
The UK public has so far pledged £77 million for Haiti through the Disaster Emergency Committee (DEC) appeal.
UK and international search and rescue workers have brought more than 130 people from the debris.
DFID has provided £300,000 to the World Health Organisation (WHO) for monitoring possible disease epidemics.
£2 million has been given to the World Food Programme for logistics and £1 million to the International Federation of the Red Cross for urgent aid to 20,000 families.
Published 12 February 2010