Guardsman Jamie Shadrake killed in Afghanistan
It is with great sadness that the Ministry of Defence must confirm that Guardsman Jamie Shadrake of the Reconnaissance Platoon, 1st Battalion Grenadier Guards, was killed in Afghanistan on Friday 17 August 2012.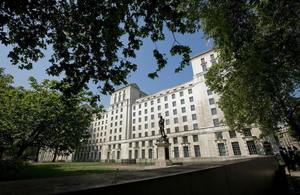 Guardsman Shadrake died of gunshot wounds when his checkpoint was attacked by insurgents in the Nahr-e Saraj district of Helmand province.
Guardsman Jamie Shadrake
Guardsman Jamie Shadrake was born on 14 August 1992 in West Bromwich. He was brought up in the Cardiff area, subsequently moving with his family to Wrexham. He played rugby for his local team at Llanharan and was looking forward to playing for the battalion team at the first opportunity. A keen sportsman, he also enjoyed kayaking and rifle shooting.
Guardsman Shadrake joined the Army as a 17-year-old in 2009. Upon completion of the Combat Infantryman's Course at the Infantry Training Centre Catterick he moved to Nijmegen Company, Grenadier Guards, in London where he conducted public duties at the royal palaces and participated in state ceremonial tasks.
In April 2010 he moved to the 1st Battalion Grenadier Guards in Aldershot, joining his elder brother in the Queen's Company. So competent was his performance on a training exercise in Canada in the summer of 2011 that he was placed into the battalion's elite Reconnaissance Platoon. He subsequently completed mission specific training and deployed with the platoon to Afghanistan on his first operational tour.
He was an impressive soldier with a huge number of friends who had a promising future in the Army and will be sorely missed by all who knew him. Guardsman Shadrake leaves behind his parents Cathryn and Philip, brothers Carl, Kieran and Shane, and sister Kerry-Anne.
Guardsman Shadrake's family paid the following tribute:
Jamie was a tremendous son and brother. He was proud to be a soldier and died doing a job that he loved. We are all devastated by the loss of Jamie who was such a loving son and brother.

We are very proud of the fact that Jamie was prepared to do his duty in helping the people of Afghanistan.

Jamie lit up any room with his infectious smile. He will be sorely missed by so many who loved him.
His Commanding Officer, Lieutenant Colonel James Bowder, said:
Guardsman Shadrake was an extraordinary young man. Bright, committed and imbued with boundless energy, his enthusiasm and lust for life were infectious. He was a talented soldier with a huge amount to offer and would have gone a long way in the Army. Indeed, he was determined to do so, not least in order to impress his elder brother who is a Platoon Sergeant in the battalion.

Our thoughts and prayers are with his parents and siblings at this extremely difficult time. Guardsman Shadrake's death is a bitter blow to the battalion and the regimental family more broadly. He will never be forgotten and we are determined to finish the mission that he so courageously helped to start.
Guardsman Shadrake's Platoon Commander, Captain Mike Dobbin, said:
Having celebrated his 20th birthday days before, Guardsman Shadrake was among the youngest in the platoon. Full of energy, enthusiasm and a sense of humour, he was a key ingredient in this tight-knit unit. Having spent his operational tour conducting many dangerous missions, he had risen to every challenge with his usual bright spirit.

Losing both a soldier with so much potential and a man with such a personality has left a gaping hole in the platoon. Our thoughts and prayers are with his family at this most difficult time.
His Platoon Sergeant, Sergeant Vandell McLean, said:
The platoon has lost an outstanding soldier with the loss of Guardsman Shadrake. On the doorstep of becoming a Junior Non-Commissioned Officer, I could see him having an extremely successful career. I will always remember him as the bloke that would catch me off guard with his one-liners. My deepest sympathy goes out to his family and particularly his older brother, a fellow Sergeants' Mess member.
Guardsman Thomas Yearly said:
I miss you dearly Jamie. I have so many great memories of you. A great mate, a great soldier and a great wingman; I will never forget you Jamie.
Guardsman Mark Knott said:
Jamie and I joined the battalion together and were put in the same room. What a mistake that was, as we spent many nights out together and they were some of the best ever. He was the greatest mate and I will miss him loads.
Guardsman Anthony Talbot said:
Jamie was such fun to be around, always smiling and having a laugh. He was extremely confident and this shone through in everything he did. He was an excellent soldier and an even better person. Everyone who knew him will sorely miss him.
Defence Secretary Philip Hammond said:
I was deeply saddened to learn of the death of Guardsman Jamie Shadrake, a young soldier who was popular with his peers and commanders alike and had shown the greatest of promise for a successful Army career.
"He was committed to his job, which he conducted with pride and professionalism, and he died for his country, fighting to protect the United Kingdom's national security. My thoughts and deepest sympathies are with Guardsman Shadrake's family and friends at this most difficult time."
Published 19 August 2012