News story
GrowthShowcase connects investors and businesses
A new online service is connecting government-supported innovative businesses with potential investors.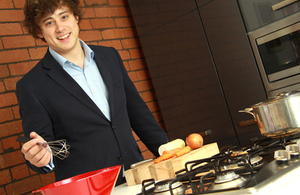 GrowthShowcase features small and medium sized businesses (SMEs) supported by Innovate UK and GrowthAccelerator that are looking for further investment. Around 45 SMEs feature on the site, with more to follow.
Small businesses play a crucial role in the UK economy. Through GrowthShowcase SMEs can reach the investment community and boost their growth potential.
High-profile investors and partners
One such company featured on GrowthShowcase is Whisk.com. Whisk.com's founder and CEO Nick Holzherr first pitched the idea to Lord Sugar on TV programme 'The Apprentice' a couple of years ago.
Whisk.com won an Innovate UK Smart award to develop its digital tech further. Whisk also received coaching to develop its sales force capability.
Whisk.com has already raised over $2 million from investors. The company now wants to use GrowthShowcase to raise further finance to boost its growth. Nick said:
GrowthShowcase is well designed and simple to use, yet comprehensive in functionality.

Innovate UK works with high-profile investors and partners. So it will be valuable to us to be part of GrowthShowcase.
Oxford Space Systems is also featured on GrowthShowcase. Oxford Space Systems won funding from Innovate UK through a Launchpad competition. The company's founder and CEO Mike Lawton said:
We're featured on GrowthShowcase to raise our profile in the investment community. We hope to connect with potential collaborators and customers.

With previous support from Innovate UK, Oxford Space Systems secured venture capital seed funding. This has resulted in a whirlwind first year which saw us win product developments contracts in the UK and overseas.

I hope GrowthShowcase will lead to interest from potential investors for our next investment. We want to seize exciting opportunities for our innovative technology.
Innovate UK launched GrowthShowcase in partnership with GrowthAccelerator with the aim of bringing together:
selected high-growth and innovative SMEs that Innovate UK and GrowthAccelerator have supported
accredited investors interested in finding out about innovative growing companies and tracking trends
Minister of State for Business, Enterprise and Energy Matthew Hancock explained:
We are working to make Britain the best place in the world to start and grow a business. Firms supported by GrowthAccelerator and Innovate UK are outperforming their peers.
What to do next
Entrepreneurs
Innovate UK supports innovative business projects across a wide range of areas. Take a look at our current funding opportunities and the priority areas we cover, to see if you could enjoy one of our programmes.
If you've had support from Innovate UK, you may be eligible for our SME programme to improve commercial success.
We may invite businesses we support to appear on GrowthShowcase, or you can apply to set up a profile.
Investors
Innovate UK and GrowthAccelerator supported businesses are innovative and offer high growth opportunities.
Business angels, investment network operators, venture capital firms or lenders can visit GrowthShowcase.
Full business profiles are open to investment professionals, sophisticated investors and certified high-net-worth individuals.
Innovate UK helps SMEs improve commercial success through coaching, mentoring and entrepreneurial training. Find out more about our SME programme of support in this year's Delivery Plan (this financial year).
Online service GrowthShowcase is just one way to connect. Check our events webpage for face-to-face events like Venturefest, or see our Launchpad competitions.
GrowthShowcase is supported by:
Published 21 October 2014