Growth plan to transform empty offices into new homes
In a major effort to boost housing supply, dormant offices will be unshackled from a bureaucratic planning system so they can be transformed…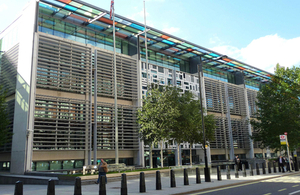 In a major effort to boost housing supply, dormant offices will be unshackled from a bureaucratic planning system so they can be transformed into new homes under proposals unveiled by Communities Secretary Eric Pickles today.
Beyond the inherited economic conditions the Government believes one of the key barriers to increasing housing supply is the lack of land and buildings available for residential development or conversion.
In 2009-10 housebuilding hit a record low of 129,000 new homes, the lowest level in any peacetime year since 1924. Only 2.8 per cent came from office conversions. This is at odds with the latest commercial vacancy rate of 7-9 per cent, which suggests there is an oversupply of commercial land.
Today Mr Pickles is publishing a consultation that proposes to scrap the planning approval requirement for changing use from a commercial property to a residential property, which can be costly and time consuming, so it is easier for developers to turn vacant offices into new homes.
Plans to bring empty commercial buildings back in to use to increase housing supply by deregulating the planning system were set out in the Budget's Growth Review.
If all the long-term office space currently available was converted it could potentially deliver 250,000 new homes and save just under £140 million over ten years in unnecessary red tape costs.
A wider review of the change of use rules, known as Use Classes Orders, and its interaction with permitted development rights will also be carried out to reduce the planning burden further.
Today Mr Pickles also called for local communities and authorities to make greater use of their existing local planning powers, Local Development Orders, to grant permission and reduce the planning burden locally.
Eric Pickles said:
Many towns and cities have office blocks, warehouse and business parks needlessly lying empty, while housebuilding has fallen to the lowest in peace time history because the planning system has tied developers up in knots of red tape.

By unshackling developers from a legacy of bureaucratic planning we can help them turn thousands of vacant commercial properties into enough new homes to jump start housing supply and help get the economy back on track. Councils already have powers to give greater local planning discretion and they should us them more to promote growth.
Decentralisation and Planning Minister Greg Clark added:
Patterns of office use have changed as employers prefer large open plan spaces to individual offices and as more and more people work from home. That has meant that there are many offices that have been vacant for years.

This change will make it easy to turn redundant offices into much needed homes. This will replace derelict properties with buildings in good use, contribute to relieving Britain's housing shortage and give a valuable boost to the building industry.
The Government has already taken action to help increase availability of land and housing supply. This includes the New Homes Bonus, Community Infrastructure Levy and measures in the Localism Bill including Neighbourhood Plans, the Community Right to Build, and the Community Right to Buy.
In addition, Ministers have announced a full review of national planning policy by 2012, and a commitment to reduce regulations on housebuilders, including the introduction of a local standards framework. The Homes and Communities Agency is also examining how the disposal of publicly owned land can be used for housing.
Notes to editors
1. The consultation seeks views on the proposal to amend the Town and Country Planning (General Permitted Development) Order 1995 to grant permitted development rights for change of use from class B1 (Business), B2 (General Industry) and B8 (Storage and distribution) to class C3 (Dwelling houses) without the need for planning applications. It will run from 8 April to 30 June 2011 and can be found at: www.communities.gov.uk/publications/planningandbuilding/relaxationchangeconsultation.
2. The Use Classes Order is a deregulatory device which allows change of use between land uses that have similar impacts, without applying for planning permission. The Government wishes to review the scope for extending the freedoms available through this route, while ensuring that planning and land use impacts are properly taken into account. To this end, the Government is proposing action on three fronts:
To provide for the change from commercial (B use classes) to residential use without the need to apply for planning permission. This responds to the recognised and urgent need to increase housing supply at a national level. Proposals are set out in this consultation document;
A call to local communities and local authorities to use imaginatively the powers they already have to relax planning constraints locally to target local issues, encourage development, support local economic strategies and make best use of existing properties; and
To remove unnecessary barriers to change of use through a wider review of how change of use and permitted development is managed within the planning system.
3. The Use Classes Order was last revised in 2005. Given the broader changes that are being made to the planning system through the Localism Bill, the National Planning Policy Framework and the presumption in favour of sustainable development, a review of how change of use is best provided for in the planning system is timely.
Twitter
Keep up to date with the Department by following us on Twitter (external link).
Media enquiries
Visit our newsroom contacts page for media enquiry contact details.
Published 8 April 2011