News story
Ground-breaking WEB-RADR project marks mid-point
The MHRA-led WEB-RADR project held its General Assembly in London on April 21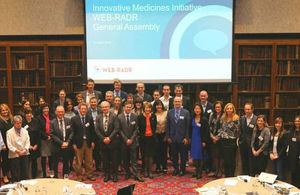 The mid-point of a ground-breaking three-year project to digitally revolutionise the way that adverse drug reactions are reported and monitored has been marked at an event at the Royal College of Physicians.
The WEB-RADR General Assembly gathered together an MHRA-led consortium of experts that have spent the last eighteen months developing innovative new electronic methods to identify potential drug safety issues.
Smartphone apps developed by the project are already up and running in the UK (as part of the Yellow Card scheme) and the Netherlands, enabling patients, caregivers, and healthcare professionals to report drug safety issues and receive news alerts. A third is set to launch in Croatia later this year.
In addition, new technical tools for mining publicly available data shared on social media have collected and analysed over 1.5 million social media posts relating to adverse drug reactions to date, in English, Spanish and French.
The WEB-RADR consortium is made up of European medicines regulators, leading pharmocovigilance experts from institutions including UCL and the University of Liverpool, and cutting-edge IT companies such as Epidemico. It is funded by The Innovative Medicines Initiative, Europe's largest public-private initiative. Representatives presented progress on their work packages, engaged in lively debate and looked forward to the second half of the project at an energizing gathering of minds on April 21.
Director of Vigilance and Risk Management of Medicines June Raine said:
Ground-breaking, impressive, and inspiring, the WEB-RADR project is delivering on its goal to bring European pharmocovigilance into the digital age.
Every member of the WEB-RADR consortium should be immensely proud of the work they have done so far to create lasting technical innovations in drug safety monitoring based on sound science which will potentially improve the public health of millions.
You can follow progress on the WEB-RADR project at @WEBRADR and on their website.
Published 29 April 2016