News story
Groceries Suppliers: Tell us what you think
A survey seeking experiences and views of the groceries sector on how retailers are complying with the Groceries Supply Code of Practice.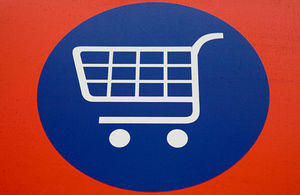 This is a new survey carried out by YouGov, which will give the Groceries Code Adjudicator (the GCA) a comprehensive picture of the current relationship between retailers and their direct suppliers and the impact of the Groceries Supply Code of Practice (the Code), as well as the sector's expectations for the future.
This is a real opportunity to influence the GCA in tackling the Code-related issues which most hamper businesses and lead to inefficiencies in the supply chain. It's completely anonymous so suppliers can speak frankly about what they think needs to change in the UK groceries supply sector.
The results of the research will be used to inform the GCA's current and future work programme and to meet reporting commitments. The results will be presented at the GCA Conference on 23rd June 2014.
The survey will be open from 8th to 27th May.
Published 8 May 2014