Greg Clark meets Big Society pioneers at Balsall Heath
The network of local volunteers who transformed Balsall Heath in Birmingham are a national example of people power putting the Big Society into…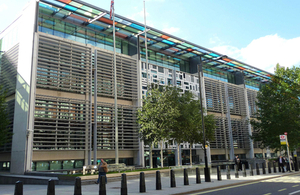 The network of local volunteers who transformed Balsall Heath in Birmingham are a national example of people power putting the Big Society into action, Decentralisation Minister Greg Clark said on a visit to the area today.
Mr Clark praised Balsall Heath's Neighbourhood Forum after hearing how local people had reclaimed their streets after being unhappy with the way the area had declined.
The Minister visited the Forum based in what once was once a patch of unkempt council land and is now an award-winning community garden centre. Meeting local residents who grow plants at the centre to place around the community, Mr Clark helped out with preparations for autumn planting.
Residents were told about the Government's new 'barrier busting team' whose sole purpose will be to help community groups like theirs get the backing they need when they encounter bureaucratic obstacles to local objectives.
Greg Clark said:
Local people everywhere know the frustration of watching their town centre decline, their library shut or local crime rising. Here in Balsall Heath a network of local volunteers took the initiative and reclaimed their streets by thinking 'we can do better'.

I was delighted to meet the pioneering residents of Balsall Heath today and see real proof of the value of community participation. With over a thousand members their Neighbourhood Forum really represents local voices who have reshaped their community and made it a better place to live. They are the Big Society in action and other community groups can look to them as a perfect example of people power.

This Government is giving local people more power than ever to shape their neighbourhoods - from taking over the running of parks, libraries and post offices, to more powers to plan and shape housing developments. A new "barrier-busting" team will to help community groups like Balsall Heath get the backing they need when they encounter bureaucratic obstacles to their local objectives so volunteering communities can turn their ideas into action.
Twenty-five years ago Balsall Heath was the centre of city's red-light district. Crime rates were high and the local police station was forced to close to the public, instead operating as a base for the vice squad.
Residents, unhappy with the decline of their local area and lack of services, resolved to work together to reclaim their streets and return a sense of community and pride establishing the neighbourhood forum that is still going strong today.
As crime fell the vice squad is now disbanded and this June residents joined together to reopen and staff the police station's front desk for five days a week and raised the funds to place 15 CCTV cameras in key locations in their community and monitor them from within the police station.
Twitter
Keep up to date with the Department by following us on Twitter (external link).
Media enquiries
Visit our newsroom contacts page for media enquiry contact details.
Published 21 September 2010