Greg Clark dispatches unnecessary housebuilding targets
Cutting down on burdensome paperwork.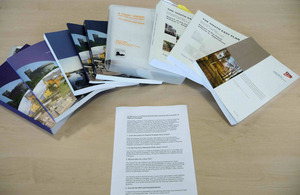 At DCLG orals Decentralisation Minister Greg Clark showed how the department was literally cutting down on burdensome paperwork by dumping 3,000 pages of documents relating to the now dead South East Regional Plan on the dispatch box. "It weighs 2 stone" he told the House, "the document we've replaced it with is 6 pages and weighs an ounce."
Regional plans and their centrally imposed building targets have now been scrapped. The government said the top-down housebuilding targets had threatened the destruction of the green belt and had failed to increase housebuilding with much of the country facing the lowest peacetime housebuilding rates since 1924.
Councils now have the freedom to prepare their local plans without having to follow top-down targets from regional quangos and bureaucrats.
Published 15 July 2010