Greg Clark awards council worker for best community service
Decentralisation Minister Greg Clark has presented a council worker with an award for her exceptional work in the community.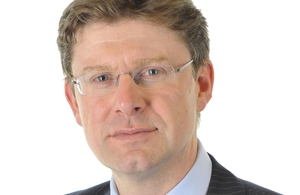 Jenny King, from North East Lincolnshire Council, was voted the winner of the Community Engagement Award after a public vote for her work as co-ordinator of a Central Children's Centre in Grimsby, at the Council Worker of the Year Awards.
The award, sponsored by the Department for Communities and Local Government, is presented to a council worker responsible for an exceptionally innovative project that gives the public brilliant customer service and makes a difference to the community.
Mr Clark praised all 5 finalists for going the extra mile to engage with the public in innovative ways. Town hall workers who come up with their own ideas to give the public better local services will play a vital part in the government's pledge to 'trust the people' as ministers hand power back to local communities.
Greg Clark said:
"I was delighted to present this award to Jenny and I congratulate all the finalists who are fantastic ambassadors for their councils.
"Good public service is often about the personal approach, having an understanding and commitment to the needs of the people who use the service.
"Every one of the awards winners have shown what a massive difference they make personally by their work."
The Grimsby Children's Centre offers a range of projects that are raising aspirations, offering life skills and empowering people to make a difference to their own lives. Jenny introduced a Peer Education Project, raising awareness of teenage pregnancy by training young mums to go into schools and talk to pupils about the realities of parenthood. Jenny is also the champion for a community allotment helping people with healthy eating and exercise.
The annual awards, presented by news presenter Jeremy Vine and run by the Local Government Channel, ask co-workers and the public to nominate individuals. The best nominations are then short-listed by a panel before being put to public vote.
Published 14 July 2010