News story
Greenlaning good practice guide
Guidelines to ensure 4x4 motorists drive responsibly on the UK's largest military training area have been published by MOD.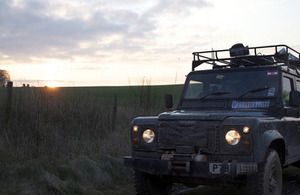 The Defence Infrastructure Organisation (DIO), which is responsible for MOD's land and property, worked with a range of partner organisations to produce the Salisbury Plain Greenlaning Good Practice Guide to educate motorists on how to use Salisbury Plain effectively and sustainably for off-road driving.
The new guide is supported by greenlaning organisations, including the Green Lane Association, Tread Lightly and the Trail Riders Fellowship. It has also been fully endorsed by Wiltshire Council and the Wiltshire and Swindon Countryside Access Forum.
The Plain is popular for greenlaning and increasing numbers of large off-road convoys are gaining unauthorised access to the Training Area. This is damaging unsurfaced roads, most of which are byways open to all traffic, and areas which the public have no right to drive over.
DIO staff hope that this new guide will help to reduce the impact on the environment and the military training infrastructure.
James Nevitt, DIO Environmental Advisor (Access & Recreation), said:
Salisbury Plain is a popular destination for greenlaning due to its extensive network of byways. The network is virtually unmatched anywhere else in England and, as a result, motor enthusiasts come from all over the country to enjoy the off-roading experience.

As a military training area, Salisbury Plain is a unique environment that has to be shared by both military and civilians alike. We hope that this new guide will remind people how to use the tracks appropriately to maximise their longevity, minimise vehicle damage and to keep themselves safe.
An extensive network of fixed tracks has been installed across the Plain to enable the military to navigate across the training area. Their primary role is to aid military manoeuvres, but many provide permissive access to the general public.
Over the past 3 years, MOD, with the help of Tread Lightly volunteers, has worked to improve the signing on the Plain to improve clarity for visitors looking to use the public rights of way and permissive tracks.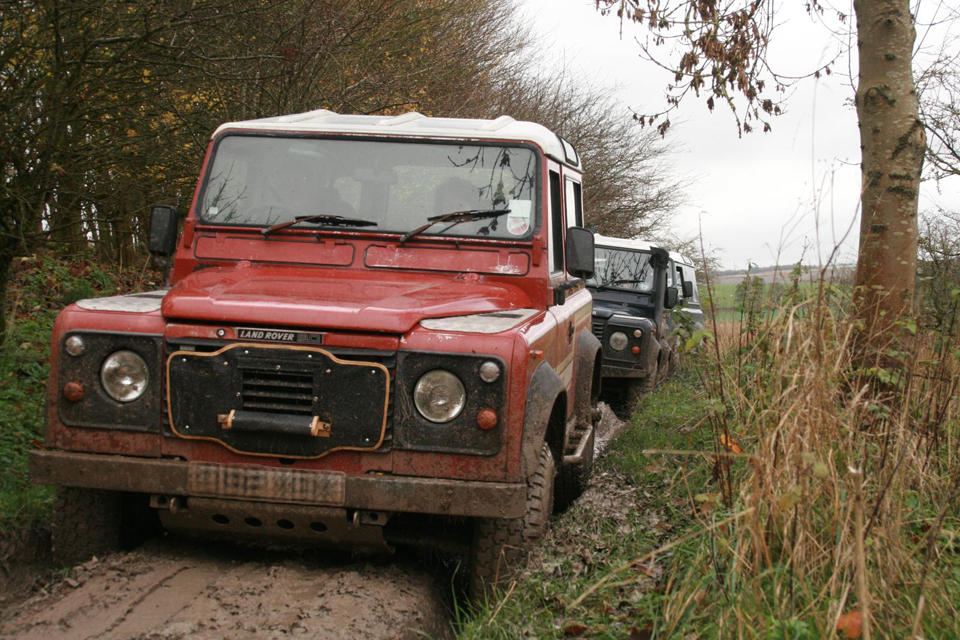 Dale Wyatt, Wiltshire North Ambassador for Tread Lightly, said:
The greenlaning good practice guide is an essential tool in helping us educate recreational vehicular users of unsurfaced roads. The Plain is an especially concentrated area of tracks and paths and our way-marking project, working in conjunction with MOD and Wiltshire Council, has helped to point users in the right direction.

Understanding that our heritage of green lanes is a precious resource is essential. Overuse in wet weather can cause serious problems and users need to be aware that green lanes are not a place to go mud-plugging – there are 'pay and play' sites where you can test your vehicle to its limits.
Commenting on the introduction of the new good practice guide on Salisbury Plain, Lieutenant Colonel (Retired) Nigel Linge, Training Safety Officer Security and Access, DIO Ops Training South West, said:
DIO's priority is to support our Armed Forces as they prepare for operations. We have a legal obligation to look after and maintain the training area to ensure that it is fit for this purpose and we are always looking at ways to improve public safety.

We believe that the introduction of the new guide will help to educate visitors to the Plain, reduce the damage that is being done to the Plain, and make it a safer place for those using it for legitimate recreational purposes.
The Salisbury Plain Greenlaning Good Practice Guide is currently available on the GOV.UK website. It will also be handed out by MOD staff to users visiting the Plain.
Published 27 September 2013