Greening: New UK support for child victims of Ebola
During a visit to Sierra Leone Justine Greening announced new support for children affected by Ebola.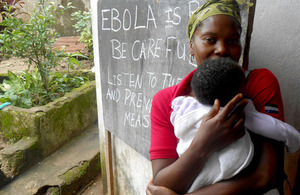 The UK will provide new funding to protect the growing number of children and women affected by the Ebola outbreak, International Development Secretary Justine Greening has announced.
The announcement came during her trip to Sierra Leone, where she visited the Don Bosco care home for children who have survived Ebola or who have completed quarantine and are waiting to be reunited with their families or rehomed.
The UK support will make sure children who have lost family or whose parents are being treated for Ebola get the care and support they need through a new £2.5 million grant for Unicef. This will include dedicated reunification services for children to locate their extended family members and provide on-the-ground support to communities.
The extra support for children comes as the UK launches a fresh surge in activity in the Western Area of Sierra Leone to ensure people with Ebola are able to get treatment.
Justine Greening said:
Ebola not only takes people's lives, it leaves children without families and survivors facing rejection from their communities. Our work will ensure these people are not left behind once Ebola is defeated.

Lots of children have suddenly seen their parents experience Ebola or at worst have lost one or both parents. We need to make sure that we keep them safe, help them cope with the terrible experiences they have gone through and, wherever possible, locate their extended families who can give them the care and love they need.
The Government of Sierra Leone has identified more than 7,000 children affected by the Ebola crisis. The UK's funding to Unicef will:
set up six care centres to provide temporary protection, care and support for children who are in quarantine, having lost contact with their families or been orphaned. These centres will work help reunite children with their families or, in the case of orphans, find them new homes within their communities;
provide psycho-social and mental health services for children affected by Ebola who are often stigmatised or rejected by families and communities;
empower Ebola survivors to become community advocates to educate people about the disease and support vulnerable groups in their own communities; and
strengthen protection desks at the National Ebola Response Centre to monitor and deploy resources quickly. This will include hiring national protection officers and setting up roving teams to ensure the needs of vulnerable groups are met.
The money will also support vulnerable groups more widely, including pregnant women and the disabled, women and girls in quarantine, and survivors who are facing stigma and rejection from their families or communities.
Notes to editors
The Department for International Development has supported the Don Bosco care home with family tracing and reunification services for children through Unicef.

Ms Greening also visited the Western Area Command and Control Centre – one of 6 district Ebola response centres set up by the UK military in collaboration with the Sierra Leonean Government and armed forces.

During her visit she oversaw preparation for a surge of people and resources to track down and tackle the disease across the Western Area of Sierra Leone. The intensive mission will mobilise thousands of religious and community leaders, councillors, women's groups and young people to warn people about the risks of Ebola and teach them how to stop the deadly disease spreading further.

Overall the UK is currently supporting 882 treatment and safe isolation beds in Sierra Leone. This includes those in the British-built treatment centres, beds in the community care centres and treatment beds the UK is supporting in other treatment centres across the country.

The UK has committed more than £230 million to the Ebola response in Sierra Leone. In addition to the new funding for UNICEF, this includes:
supporting more than 700 treatment beds to help up to 8,800 patients over six months;

shoring up the country's stretched public health services to help contain the disease. This includes vital supplies such as chlorine and protective clothing for thousands of health workers;

training over 4,000 healthcare workers, logisticians and hygienists including Sierra Leonean Army and Prison staff, led by UK military personnel who ran the UK-led Ebola Training Academy in Freetown;

opening up to 200 Community Care Centres where people who suspect they might be suffering from the disease can seek swift and accurate diagnosis and appropriate care;

building, running and staffing three new labs in Sierra Leone to help check the spread of the deadly Ebola virus and double the number of tests that can be carried out every day;

supporting charities on the ground to work with people to agree practices which will allow them to honour their friends and relatives, while ensuring bodies are safely buried; and

doubling the number of burial teams in Freetown – and providing over a hundred across the country. With UK support IFRC burial teams in Sierra Leone's western area, which accounts for approximately a third of the country's population, are now burying 100% of reported bodies within 24 hours.
Published 16 December 2014