Press release
Greening: Education can secure a peaceful future in Nigeria
Britain and the US have today pledged to educate a million girls and boys in northern Nigeria to boost development across the country.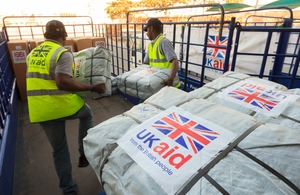 Launched by the Foreign Secretary during a Ministerial meeting on security in the country, the package includes a new landmark pledge to work with the US Government on joint aid programmes to get girls into school.
The Department for International Development will also assist the Nigerian Government's own plans for development in the north of the country.
International Development Secretary Justine Greening said:
The abduction of the Chibok schoolgirls is a brutal reminder of the dangers faced on a daily basis by girls who simply want to go to school.

We cannot allow Boko Haram to shut down education in northern Nigeria and snuff out the life chances of millions of Nigerians while they are still children.

This new partnership with the US will ensure a million more children receive an education and improve dramatically their chances of a better and healthier life.

British aid is tackling poverty, terrorism and inequality at source.
The new package will ensure:
One million more children receive a better education in northern Nigeria by 2020. More than half of these children will be girls. In the first partnership of its kind in Nigeria, DFID and USAID will work to share resources and experience to provide safe and effective learning in schools and the community. In partnership, the UK and US will work with the Nigerian government, parents, communities, and religious and civic leaders to develop opportunities for learning even where schools are known to be unsafe. This includes getting girls and boys into school and improving their learning.

Experts improve economic development in northern Nigeria. DFID will deploy two development experts to assist Nigeria's Presidential Initiative for the North East (PINE). On arrival, they will work directly with the Office of the National Security Adviser to assist the economic development plan for the North East

We boost and strengthen accountability and transparency in Nigeria. DFID will establish a new programme to advise the Nigerian Government on how to make its public finances more accountable and transparent. In time this will ensure more resources reach those who need it most especially women and girls.
Published 12 June 2014