Press release
Greening: British support to help more Sierra Leoneans
Justine Greening has visited Sierra Leone to see the early results of Britain's response to Ebola.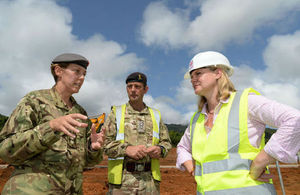 British assistance to tackle Ebola will increase over the coming weeks as existing commitments of UK-funded training and care facilities come on stream, International Development Secretary Justine Greening said today on the second and last day of her visit to Sierra Leone.
The numbers of health workers being trained, burial units in operation and local diagnosis and care units will all increase over the coming weeks as UK plans are rolled out.
Ms Greening's comments came ahead of Prime Minister David Cameron's attendance at the European Council from tomorrow, where he is expected to highlight Britain's response in Sierra Leone and urge a stronger commitment from other EU countries.
Justine Greening said:
I have seen for myself the impact that Ebola is having on Sierra Leone but among the most impressive things I have witnessed, as well as the heroic work of British medics, soldiers and humanitarian workers, is the response from the people of this country.

Local people here are volunteering in their thousands to be trained as healthcare workers and burial workers, risking their lives to fight this disease.

Britain is standing together with the people of Sierra Leone as they battle Ebola and our assistance and impact will only increase over the coming weeks and months.
During her visit to Sierra Leone this week, Ms Greening saw the early results of Britain's response to Ebola, including:
the national stadium in Freetown where the Department for International Development is funding the World Health Organisation (WHO) and British Army medics to train local and international health workers every week in how to treat Ebola and to safely wear personal protection equipment. UK support has allowed the WHO to double the number of health workers trained to 240 every week;
burial team training and a new UK-funded command and control centre which will manage safe burials across Freetown and the Western Area; and
construction of the Kerry Town treatment centre, which will provide 92 treatment beds when fully operational.
Her visit was also an opportunity to thank the British heroes who have travelled to Sierra Leone to fight this disease, including humanitarian aid workers, medics, government officials and military personnel, all of whom are playing a crucial role in Britain's response.
She also met President Koroma today, who expressed his appreciation and gratitude for the UK's leading role in responding to this disease. At the meeting Ms Greening and the President also discussed how to make burials safer and ensure patients across the country get the assistance they need as quickly as possible.
Notes to editors
The UK is already funding a £125 million plan to improve public health, deliver a command and control hub, construct and operate 700 treatment beds, and to pay for international and national staff and community care.

Current estimates suggest that the rate of infection stands at 1.7, meaning for every ten people who contract Ebola, 17 more will become infected. However, if infected people are isolated quickly after they contract the disease, they are much less likely to pass it on to their families and communities. Early isolation of 70% of people with Ebola will mean the infection rate will begin to fall and the numbers of people getting the virus will decline.
General media queries
Follow the DFID Media office on Twitter - @DFID_Press
Published 22 October 2014