Press release
Green light for Weston transport improvements
Work on a new package of public transport and road improvement measures in Weston-super-Mare has been given final approval today.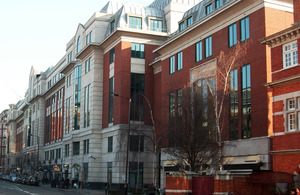 Work on a new package of public transport and road improvement measures in Weston-super-Mare can now start after receiving final approval from Local Transport Minister Norman Baker today (26 November 2012).
The scheme will support economic growth in Weston-super-Mare and reduce congestion in the town centre. The work will also improve links between local roads and the M5 motorway.
The scheme includes:
improvements to increase capacity of the M5 Junction 21
a new link road for buses to access Worle railway station
bus priority measures at junctions and bus only sections to improve bus access to the south of Worle Station, linking it with regeneration areas at Weston Airfield and Locking Parklands
a new 320 space car park with a bus interchange, drop-off and cycle facilities together with improvements to the north-side car park at Worle Station
increased capacity between the town centre and the regeneration areas through road widening and new routes for pedestrians and cyclists as well as bus priority measures
Norman Baker said:
This is a great scheme that will support employment, reduce congestion and make it easier for people using public transport in and around Weston-super-Mare.

The £10.4 million we are putting into this scheme shows that the coalition government is serious about investing in the infrastructure the country and the region needs to drive economic growth.
The Weston package scheme was one of the schemes given funding approval last year as part of the Spending Review process. Work is currently planned to start in March 2013 with the package scheduled to open in April 2014.
Notes to editors
Today's (26 November 2012) announcement grants full (final) approval to the Weston package scheme enabling work to begin.
The package of measures, promoted by North Somerset Council, is scheduled to open in April 2014.
Roads media enquiries
Media enquiries 020 7944 3021
Out of hours media enquiries 020 7944 4292
Switchboard 0300 330 3000
Published 26 November 2012