Green Flag Awards: views invited on the future
Lovers of green spaces will get the chance to have a say on the future of the prestigious Green Flag Award at an event next week.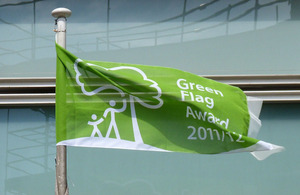 The Green Flag Award is the national benchmark for quality public green spaces such as parks and community gardens. It is highly regarded within the sector, credited with continually raising the quality standard of green spaces since its start in 1996. The award is recognised and used by the majority of local authority green space managers and increasingly by community and voluntary groups, and this year the Award celebrated a record number of flags.
The Department for Communities and Local Government recently announced its intention to let the Green Flag Award scheme run under license from 1 September 2012. The meeting next week will be open to all, and will give interested parties the chance to give their views in person on the proposed license framework. Alternatively interested parties are invited to write in with their views before Christmas.
Ministers support the scheme and wish to see it sustained when the current arrangement to run the scheme ends 31 August next year. The government's intention is to advertise next year for an external group to run the Green Flag Award scheme under license from 1 September 2012, and to invite bids. Details of the license offer will be available in February next year.
Andrew Stunell said:
Green Flag Awards have done wonders in raising the standard and awareness of our green parks and spaces and have a vital role in the future. I hope all those with an interest in the scheme will use this opportunity to help shape the future of the Green Flag Awards so we can all continue to recognise and celebrate what's best about our parks and green spaces.
An opportunity to have your say on how the Green Flag Award scheme could be run under license and sustained post August 2012 is being held at 11.30am to 12.30pm on Wednesday 7 December 2011, at Eland House, Bressenden Place, London, SW1E 5DU.
If you are interested in attending this open opportunity to shape the future of the scheme or wish to write in with your views, please email Jonathon Cartwright at jonathon.cartwright@communities.gsi.gov.uk for further details (telephone: 0303 44 42604).
Further details about the scheme and the application round for 2012 to 2013 can be found on the Green Flag Award website
Published 30 November 2011