GREAT Guangzhou stop - Canton Tower to celebrate the London Games
A tale of Two Cities' sporting friendship: Canton Tower celebrates the London Games.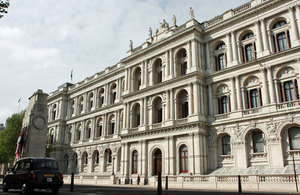 On 27th July, the Canton Tower, Guangzhou's best known new landmark, is to celebrate the Olympics Opening Day with an exciting public event for the citizens. At the Tower, citizens will be joined by Prof. Jimmy Choo OBE, renowned UK-based designer of Chinese descent, and Yang Jinghui, former Olympic champion. Celebrating the Olympics in Canton Tower, a building built by a British engineering company for the Asian games, will highlights the tremendous legacy that a great sports event can bring to a city and the strong connections between the UK and Guangzhou.
With both the London 2012 Olympic and Paralympic Games and the Queen's Diamond Jubilee taking place this year, the eyes of the world are on the UK. Prime Minister David Cameron is spearheading the country's biggest-ever overseas campaign to boost worldwide awareness of the UK as a GREAT place for business, investment, tourism and study.
Experience UK in a Guangzhou landmark building
The day will start with a classic car rally. The VIPs will then share their hopes for the Olympics and welcome people to the Canton Tower. Olympics videos and a message from a secret guest will be broadcast on the big screen. The GREAT exhibition features six London telephone boxes, showcasing UK strengths and emphasizing the close connection between Guangzhou and London. Musicians from both China and Britain will sing British songs and local football players will perform. The public will have the chance to taste British delicacies, make miniatures of London telephone boxes and also participate in the lucky draws to win prizes, which include tickets to London and football T-shirts signed by the captain of Manchester City football team..
When night falls Canton Tower will be lit with a special Olympic design. Distinguished British and Chinese guests from government and business will gather to celebrate the start of the London Games.
During the Games, the GREAT exhibition will be exhibited in the Canton Tower Hall. Citizens will have the chance to get a taste of the UK and the Olympics all summer.
Published 26 July 2012