GREAT campaign launches in Tokyo
On 10 April, Culture Minister Jeremy Hunt, Olympic wrestling gold medallist Saori Yoshida and actors Masachika Ichimura and Anne Suzuki launched the GREAT campaign at the iconic Shibuya crossing in Japan's capital.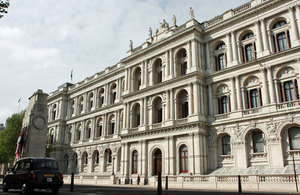 Cabinet Minister Jeremy Hunt is a fluent Japanese speaker with a long-held affection for Japan. Crowds watched as he introduced a GREAT branded double-decker bus as it drove through the crossing, through which thousands of people pass every day. Four of Shibuya's giant screens carried a personal message from Prime Minister David Cameron and images of Britain's attractions and strengths - from the beauty of the British countryside to innovative engineering embodied by British designed and built Formula 1 cars.
Wrestling champion Yoshida spoke of her excitement as her preparations for London 2012 enter the final stretch, while Suzuki and Ishimura accepted the role of Goodwill Ambassadors for the GREAT campaign in Japan. As acclaimed interpreters of some of the UK's best theatre including Shakespeare's heroes and villains, they're among the best possible advocates for UK culture in Japan.
The UK will be in the world spotlight this year, and the GREAT campaign is part of the UK Government's drive to make the most of this opportunity as the Queen celebrates her Diamond Jubilee and the country hosts the 2012 Olympics and Paralympics.
Published 11 April 2012