GREAT campaign launches in Rio de Janeiro
On his first official visit to Brazil, Prince Harry launched the GREAT campaign in Rio de Janeiro along with Culture Secretary Jeremy Hunt.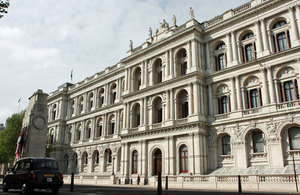 Speaking at the launch the Prince said:
"It's wonderful to see here tonight so much that is truly Great about Britain - and particularly about our flourishing partnership with Brazil.??
In business, the UK is now Brazil's 4th largest foreign investor. In education, innovation, technology, fashion, and even in shopping, Britons and Brazilians are forging bonds that will stand the test of time, and take us forward together into the 21st Century."
Ahead of the launch event Secretary of State for Culture, Olympics, Media and Sport Jeremy Hunt said:
"As the next Olympic host city Rio de Janeiro is a fantastic place to showcase all that is GREAT about Britain. Passing on the Olympic baton to them after 2012 will be an honour and I hope we can build on the close relationships already forged by inspiring more people to do sport, more visitors to holiday and study in the UK, and more companies to do business in Britain."
The UK will be in the world spotlight this year, and the GREAT campaign is part of the UK Government's drive to make the most of this opportunity as the Queen celebrates her Diamond Jubilee and the country hosts the 2012 Olympics and Paralympics.
Published 10 March 2012