GREAT campaign launches in Hong Kong
Gala event draws celebrities, business leaders and society figures to mark enduring British-Hong Kong partnership.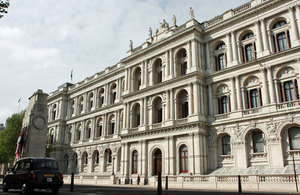 The British Consulate-General Hong Kong today launched the international GREAT Britain campaign in Hong Kong with an exclusive event to celebrate the long-standing partnership between the UK and Hong Kong and to showcase British creativity and innovation talent. Following events in New York, Rio and Tokyo, the GREAT campaign aims to raise international awareness of the multi-faceted appeal of the UK, attracting an extra 4 million visitors and a £1 billion boost for business over the next four years.
With both the London 2012 Olympic and Paralympic Games and the Queen's Diamond Jubilee taking place this year, the eyes of the world are turning to the UK. Prime Minister David Cameron is spearheading the country's biggest-ever overseas campaign to boost worldwide awareness of the UK as a GREAT place for business, investment, tourism and study.
British Consul-General to Hong Kong Andrew Seaton said, "The relationship between the UK and Hong Kong, already so important, continues to grow and develop. Our partnership in the fields of creativity and innovation are an increasingly important part of that mix. Many UK designers draw creative inspiration from the vibrancy of Hong Kong. For their part, Hong Kong people appreciate what the UK has to offer in the fields of fashion, design, food and technology. In recent years we have seen classic and innovative British brands work with local partners to achieve significant success here; and likewise many Hong Kong businesses with global ambition have been establishing a footprint in the UK."
"The choice of Hong Kong as a GREAT campaign city is a sign of how important it is to the UK. I am looking forward to deepening relationships across the board. 2012 will be a chance for people across the world to re-discover GREAT Britain and see with fresh eyes the vibrant opportunities there for business, investment, leisure and education," Seaton added.
Today's event brings together future leaders, business figures, local and international celebrities and young entrepreneurs, in a theme of red, white and blue. Luxury fashion designer Julien Macdonald showcases some of his latest collection while Head Chef of Trinity restaurant Adam Byatt serves modern interpretations of traditional British cuisine, offering guests a taste of the creativity that the UK has to offer.
The star-studded event also welcomes other visiting UK figures including interior designer Kelly Hoppen, Hong Kong-born Olympic torchbearer Steven Cheung and gallery owner Michael Hoppen, a leading light in the world of photography. British cirque group Tumbellina will entertain the guests with a breathtaking performance of acrobatics.
Seaton also said, "Tonight's GREAT celebration would not have been possible without the tremendous support from our sponsors, British Airways and Coutts. We truly appreciate the commitment that they have shown in helping to highlight what GREAT Britain has to offer to the world."
Announced by Prime Minister David Cameron in New York in September 2011, the GREAT campaign has so far been launched in 9 countries. These include the USA, Germany, France, India, China/Hong Kong, Japan, Canada, Brazil and Australia. Focusing on 17 key cities it aims to reach over 80 million people through integrated platforms across advertising, public relations, partnership/celebrity activity and city-based events.
UK celebrities such as Sir Richard Branson, Vivienne Westwood, Lily Cole and Victoria Beckham have signed up as GREAT Ambassadors to support the initiative, showcasing the breadth and depth of British talent and with the common goal of inviting people to take a fresh look at everything the UK has to offer.
Published 10 May 2012