World news story
Great Britain in Rome
This was published under the 2010 to 2015 Conservative and Liberal Democrat coalition government
On 18 May music, art and culture from the UK will be on show at the MAXXI Museum in Rome.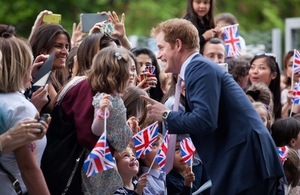 The British Embassy Rome and the MAXXI – (Museo Nazionale delle Arti del XXI Secolo), are happy to announce a special event dedicated to Great Britain "Great Britain in Rome", that will take place on Sunday 18 May at the museum.
The event, which is organised with the support of many British associations in Italy, will be a great festival open to the public starting at eleven in the morning and continuing until sunset.
During the day British music and soundtracks will accompany educational and recreational activities for children and adults alike, while there will also be food tasting of typical British food and drink, dance performances, and seminars to discover more about the opportunities of studying in the UK. All this, and much more, will take place in an atmosphere of friendship and close relationship which unites the UK with the MAXXI.
The museum will also be the location for the presentation of the winning design for the British pavilion at Expo 2015 in Milan, with HRH Prince Harry participating for the unveiling ceremony (event by invitation only).
British Ambassador to Italy Christopher Prentice commented:
We are particularly happy to be guests at the MAXXI to celebrate a whole day dedicated to the UK. I hope that this event will be an occasion for Romans to encounter less well known and more unusual aspects of our country, in a location which is exceptionally well suited for such occasions. This marvellous structure which was designed by the Anglo-Iraqi architect Zaha Hadid will be the Roman location of Expo 2015 for a day, with a presentation of the winning project for the British pavilion by Prince Harry.
The curator of the MAXXI Giovanna Melandri said:
We are very happy to welcome to the MAXXI, which is also the National Museum for Architecture, the event for announcing the winning design for the British pavilion at the Milan Expo 2015. The unveiling event will take place in the presence of HRH Prince Harry. This will be, once again, an occasion to highlight the theme of architecture that is the focus of our Foundation's constant attention. The MAXXI is really pleased to offer this to its public for a day, in addition to the many other exhibitions (personal exhibition of Ettore Spalletti, the experiences of Italian architects abroad in the Erasmus Effect; the vitality of the collection in It Isn't Enough to Remember, the dialogue between the various disciplines of art and architecture) – to name but a few.
Follow the conversation on Twitter: #GREATinRome