Grants Shapps taking action to address homelessness
Housing Minister Grant Shapps has chaired the first cross government meeting aimed at tackling homelessness.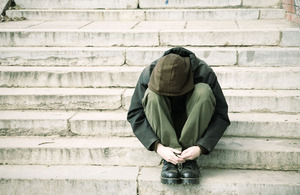 The Prime Minister had tasked ministers in 8 government departments with stepping up action to address the issue. Today (16 June 2010), the ministers met for the first time as the Homelessness Working Group, to see how policies across their departments can help tackle the complex problems that cause people to lose their home.
At the same time Grant Shapps has announced that he plans to overhaul the way in which rough sleepers are counted, so that the findings better reflect the true scale of the problem. Any agreed changes will come into effect from 2011 and, as pre-announced, this year's rough sleeping figure will be published as soon as possible.
Up until 2008, the majority of the estimates that councils submitted were bracketed down to zero, masking the true number of rough sleepers nationwide. The current system also means that local authorities only have to conduct a count where there is thought to be a significant problem - meaning that only 76 out of the then 354 councils contributed to the last national count.
Mr Shapps said:
Councils and charities are doing a great job in helping people off the streets, but the current counting system makes a mockery of the scale of the problem they face.

This coalition government will not stick our heads in the sand and ignore the true picture of the number of those facing life on the streets. That's why I am announcing today that we will overhaul the Rough Sleeping Count from 2011 so that it is a credible measure and reflects the reality of the situation.

And for the first time, ministers from across 8 government departments are coming together to ensure that the needs of the homeless are being met, not just in terms of housing, but in employment, training, rehabilitation and healthcare.
The ministers making up the new Homelessness Working Group are:
Grant Shapps MP (Con) - Department for Communities and Local Government (housing and homelessness) (Chair)
Andrew Robathan MP (Con) - Ministry of Defence (welfare of veterans)
John Hayes MP (Con) - Department for Business, Innovation and Skills (adult skills)
Paul Burstow MP (Lib Dem) - Department of Health (health and care services)
Lord David Freud (Con) - Department for Work and Pensions (housing benefit)
Crispin Blunt MP (Con) - Ministry of Justice (criminal justice)
James Brokenshire (Con) - Home Office (crime prevention)
Tim Loughton MP (Con) - Department for Education (children and youth services)
Published 16 June 2010