Grant Shapps welcomes overwhelming demand to Get Britain Building
A Government scheme to get builders back on stalled sites and work restarted on homes has had an overwhelming response and is three times oversubscribed…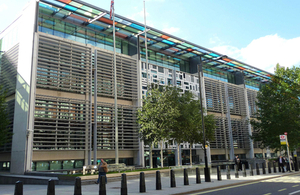 A Government scheme to get builders back on stalled sites and work restarted on homes has had an overwhelming response and is three times oversubscribed, Housing Minister Grant Shapps has today revealed.
The £420million Get Britain Building fund is a key tenet of the Housing Strategy. Launched just two months ago, the Get Britain Building fund has seen a total of 176 expressions of interest - meaning the programme is now three times oversubscribed.
Mr Shapps argued that the short, simple and straightforward application process has made it easier for smaller building companies, as well as larger developers, to bid for funding.
Taken together, the bids received so far cover 392 individual sites. But overall, this £420million investment is expected to unlock the building of up to 16,000 homes on sites that are currently stalled - creating up to 30,000 jobs in construction and related industries by 2014.
Mr Shapps also published details of 18 of the most important local housing sites that subject to due diligence and contracting could benefit from Government cash to get builders back to work.
The Minister confirmed that these 18 developments will go to the next stage of assessment for £45million funding from this scheme to get workers back on site and deliver 1,300 new homes.
These include:
Cheeseman's Green, Ashford - includes plans for 140 new homes
Bootham Green, York - includes plans for 37 homes
Newark Southern Extension - includes plans for 100 homes
Grant Shapps said:
With the Prime Minister putting housing centre stage in the road to economic recovery we are pulling out all the stops to get the jobs created and the red tape cut to ensure we get the homes this country needs built.

So I am greatly encouraged by the clamour from developers large and small to get Britain building by applying for a share of our £420million fund to unlock stalled sites across the country.

And today, I can confirm that 18 of the most difficult sites have already been identified to potentially share £45million to resolve the issues they face, get builders back on site and over 1,300 homes built. I look forward to seeing the results of the competition and the houses that result.
Pat Ritchie, chief executive of the Homes and Communities Agency, said:
This excellent response to our programme puts us in a strong position to take forward those schemes which offer the very best value for money, make the biggest difference locally, and can re-start on site quickly. The link between housing and economic growth is well established, and in ensuring delivery of 16,000 new homes, investment through the Homes and Communities Agency will also help create new jobs and local economic activity.
Notes to editors
For more information on the expressions of interest or bidding process please contact the Homes and Communities Agency Press Office on 020 7874 5269.

A list of the 18 commissioned schemes, that will go forward to the next stage of due diligence can be found on the Homes and Communities Agency website at: [www.homesandcommunities.co.uk/sites/default/files/commissioned_projects_-010212.csv](http://www.homesandcommunities.co.uk/sites/default/files/commissioned_projects-_010212.csv) (external link)
Twitter
Keep up to date with the Department by following us on Twitter (external link).
Media enquiries
Visit our newsroom contacts page for media enquiry contact details.
Published 15 February 2012