Grant Shapps welcomes cash for housebuilding
Housing Minister Grant Shapps has welcomed the confirmation of £390 million to build over 8,500 new much-needed homes.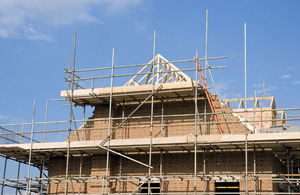 The cash will be used to guarantee the spending commitments made by the previous administration which depended upon underspending across Whitehall.
Chief Secretary to the Treasury Danny Alexander confirmed today that 4 government departments have agreed to reductions in unfunded spending commitments totalling £1.5 billion.
They are:
Department for Education
Department for Business, Innovation and Skills
Department for Communities and Local Government
Home Office
£390 million will be made available to build 4,500 social rented homes, over 3,000 homes for sale at affordable prices and 1,000 stalled by the recession - protecting over 8,000 construction jobs.
This is on top of the £170 million already made available by the coalition government to build 4,000 new social homes.
Housing Minister Grant Shapps said:
We are in the business of offering genuine help the country can afford. Today's cash is a real shot in the arm for housebuilders. It means that thousands of new affordable homes will now get built, protecting thousands of jobs in the process.
Published 5 July 2010