Grant Shapps signals start to housing 'revolution'
Housing Minister Grant Shapps has confirmed that he will take forward legislation allowing the creation of Local Housing Trusts.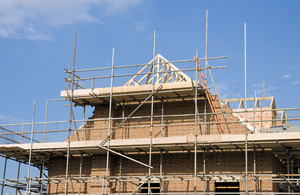 In a speech to the Community Land Trusts conference in London today (29 June 2010), the minister confirmed that plans for Local Housing Trusts will be included in the forthcoming Decentralisation and Localism Bill, due to be introduced this Autumn.
Local Housing Trusts would have to show they have the support of the local community for planned housing developments, and would have to meet some basic planning criteria - but would not need to lodge specific planning applications.
Any profits made from new developments would have to be reinvested in the local community, and the land would remain with the housing trust - regardless of what happened to the houses built on top.
Housing Minister Grant Shapps, said:
In opposition I said that if we won the election we would start a revolution - where communities would get involved in providing homes for themselves. Today it's time to start that revolution.

For the first time it will be communities, not central government, who decide what happens in their local area.

We want local people to decide what happens in their community. Local Housing Trusts should be able to proceed in areas where there is overwhelming support for new developments from people living in the area.

But essentially I want communities to have the freedom to decide on the type and quantity of housing without external restrictions imposed by a centralised planning system. The English villages that captivate the world's imagination were largely built at a time before a planning system existed. They were built by local people to meet their needs.

I want to unlock the passions and drive of communities. I want to free them to realise their vision.
Published 29 June 2010