Grant Shapps sets out vision to protect and preserve rural village life
Housing Minister Grant Shapps has today set out his vision for protecting the future of rural village life for generations to come, by giving…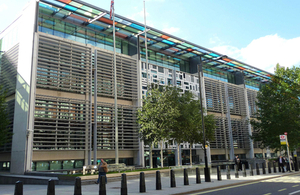 Housing Minister Grant Shapps has today set out his vision for protecting the future of rural village life for generations to come, by giving local communities the power to build the homes they need.
The Minister has outlined a new right that will allow communities across England to come together and create new homes, shops, businesses and facilities.
And today, these plans have the backing of celebrity builder and TV presenter Tommy Walsh.
The new Community Right to Build will shift power from Government to communities to allow local people to deliver the homes and development that they really want, without being told that their own expansion doesn't fit with their local council's plans and should not go ahead.
And Mr Shapps called on communities that have already come together to build homes, or have been thwarted by the red tape and bureaucracy of the current system, to come forward and consider using this new Community Right to Build.
Under the proposals, which will be contained in the Localism Bill, community organisations will have the freedom to give the green light to new local developments without a specific application for planning permission, as long as there is overwhelming community backing in a local referendum.
Any surplus made from the sale or renting of homes would be recycled for the benefit of the community.
But community organisations would not be restricted to just building family homes - they could choose to build sheltered housing for the elderly, or set aside plots for people to build their own homes.
They could even offer long-term low rent deals for local shops, community halls or sports facilities.
A new e-leaflet is published today, offering information and advice to communities interested in setting up Right to Build organisations.
Housing Minister Grant Shapps said:
Far from the Nimbyism that often hits the headlines, up and down the country there are entire communities willing and eager to give the go-ahead for new developments in their area. The countryside must be a vibrant place to live, and cannot be allowed to become a museum. I want to give communities the power to preserve their villages, which are currently struggling to survive because of a shortage of affordable homes.

With housebuilding at its lowest level in any peacetime year since 1924, some areas are facing a battle to keep schools and GP surgeries open as younger people are forced to move away. The new Community Right to Build could provide the answer. It will give residents the power to give the green light to new homes that are suitable and appropriate for their local area. And because local people are in charge, developments will only go ahead with their overwhelming support.

I want anyone with the vision and drive to build homes in their area to be able to do so. I want to hear about the challenges they've faced, and for them to look at our plans for the Community Right to Build, as it could offer them the freedom to achieve their ambition.
Celebrity builder and TV presenter Tommy Walsh said:
I've worked with people on community projects for many years, and in that time I've found that no one knows the needs of the community better than the people who live there.

Whether it's building affordable housing to allow young people to remain in their village, housing for the elderly, new schools or even business developments to keep the community vibrant - if it's what the community wants, it should be made easier for them to do it. Any moves to cut red tape and help local people will certainly be welcomed by me.
Notes to editors
The e-leaflet, The Community Right to Build, is published today and can be found at: www.communities.gov.uk/publications/housing/righttobuildleaflet.
Twitter
Keep up to date with the Department by following us on Twitter (external link).
Media enquiries
Visit our newsroom contacts page for media enquiry contact details.
Published 23 July 2010