Grant Shapps sends special agents into barracks to help our troops buy homes
Housing Minister Grant Shapps today announced special housing agents will be sent into military bases to help members of the armed forces get…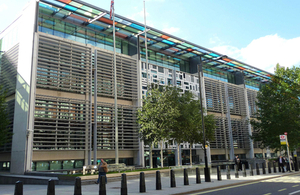 Housing Minister Grant Shapps today announced special housing agents will be sent into military bases to help members of the armed forces get a foot on the housing ladder.
Housing agents will be dispatched to barracks across the country and abroad to help troops apply to buy a home under the £500m FirstBuy scheme, which will help over 10,000 households purchase a new build home over the next two years.
On the national day to celebrate the work of our armed forces, Mr Shapps confirmed military personnel will be the top priority to benefit from the nationwide scheme, and called on developers to also visit army bases and market their new build homes to the troops.
The move follows a military housing summit chaired by the Minister, where industry leaders and defence officials discussed what more can be done to help people serving in the military get a roof over their head and a place of their own.
Such was the appetite for helping military personnel buy their own homes that Mr Shapps immediately moved them to the top priority category for assistance through FirstBuy. Serving members of the Armed Forces, as well as those recently retired, will now be at the front of the queue to benefit from the scheme.
The Government is taking further steps to ensure that all Government-funded home ownership schemes routinely place members of the Armed Forces at the top of their priority lists.
Mr Shapps also signalled that prioritising military personnel will be extended to social housing. Rather than being forced to languish on waiting lists, service families in need of a social home should be given higher priority by councils.
Housing Minister Grant Shapps said:
It's not enough to simply tell the troops they are a priority for the FirstBuy scheme and wish them luck. I want to make sure that military personnel have the best opportunity to benefit. That's why I am dispatching special housing agents to military bases and training camps as recruiting sergeants for the scheme, and we are encouraging developers to do the same. Troops will be told how they can benefit, and how they can apply to buy one of the thousands of new homes that will be made available over the next two years.

This Government believes in helping people who deserve it - none more so than the brave men and women who put their lives on the line to protect our country. Our troops don't just want to hear a few kind words on Armed Forces Day - they want action. That's why I have promoted members of the armed forces so they will be the first to benefit from the Government's scheme to help people get a foot on the housing ladder.

The help for our heroes will not end there. Steps are being taken to make sure members of the armed forces are at the top of priority lists for all Government-funded home ownership schemes. We will also end unfair treatment of military personnel applying for social housing. No longer will the loyal service of our troops be rewarded with an extended period of languishing on council waiting lists. Instead, service families in need of a social home will be given proper priority, and will be treated with the dignity and respect that their selfless sacrifice deserves.
Mike Farley, chief executive of Persimmon plc, commented:
It is important that we give our Armed Forces a helping hand onto the property ladder. We are delighted to be able to support more than 2,100 troops and other first time buyers in the purchase of their new homes right across the country thanks to the government funding in the FirstBuy Scheme.
Starting next month, developers will begin marketing homes under FirstBuy and qualifying households will be helped with a 20 per cent equity loan to buy a property from a participating house builder.
This comes in addition to work between the Government, credit agencies and Royal Mail to ensure that those living on a base or serving abroad are not disadvantaged when applying for a mortgage.
Notes to editors
HomeBuy agents from the Homes and Communities agency will visit military bases to explain how the FirstBuy scheme works, as well as discuss options for members of the armed forces who want to apply for other low cost home ownership schemes.
Twitter
Keep up to date with the Department by following us on Twitter (external link).
Media enquiries
Visit our newsroom contacts page for media enquiry contact details.
Published 25 June 2011