Grant Shapps sees help for homeless in Leeds
Housing Minister Grant Shapps visits St George's Crypt in Leeds.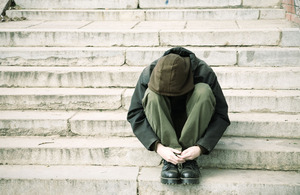 Housing Minister Grant Shapps today (24 June 2010) revisited a homelessness charity in Leeds to see for himself how recent refurbishments have meant a range of services under one roof to local homeless people.
St George's Crypt is a charity that has supported homeless people in Leeds since 1930. As well as accommodation, the Crypt is preparing to offer dental healthcare for residents, as well as valuable training opportunities.
During his visit - his second - Mr Shapps explained how he recently chaired the first meeting of homelessness ministers from 8 government departments, set up by the Prime Minister to step up action to help the homeless.
He also outlined how his plans to overhaul the flawed system of measuring homelessness will remove the mask on the true scale on the problem of rough sleeping.
Grant Shapps said:
St George's Crypt is a shining example of the excellent work of charities in Leeds and across the country in helping people off the streets. Their support, working closely with local councils, can give a fresh start to the most vulnerable people in our communities.

That's why for the first time, the Prime Minister has convened a team of ministers from 8 different government departments to step up action to help the homeless, not just in terms of housing but also in terms of training, skills and healthcare.

And it's why I want to overhaul the flawed system of counting the numbers of rough sleepers in this country, so from next year councils and charities know the true scale of the problem in their area and can target their expert help and advice where it is needed most.
Chris Fields, Chief executive at St George's Crypt, said:
St George's Crypt is committed to working towards the provision of long-lasting solutions to our residents through a combination of training, advocacy and personal development. We are delighted that Grant Shapps has returned to see the completion of the refurbished and upgraded facilities at the Crypt which allows us to work in partnership with others to provide the best possible services for homeless and disadvantaged people.
Published 24 June 2010